What is Coronavirus: Symptoms | How It Spreads | How To Avoid It
What is COVID-19 or Coronavirus?
According to the WHO, coronaviruses (CoV) are a large family of viruses that cause illness ranging from the common cold to more severe diseases. Since the viruses are zoonotic, they can be transmitted between animals and humans.
The symptoms of coronavirus infection include fever, cough, shortness of breath, and breathing difficulties. These symptoms, that usually appear 2-14 days after exposure to the virus, are similar to those for common cold and flu and do not necessarily mean that you have the illness.
In more severe cases, COVID-19 can cause SARS, pneumonia, kidney failure, and a buildup of fluid in the lungs.
Is it Fatal?
While the outbreak of the coronavirus has been alarming, only 2% of the reported cases have been fatal.  Many experts believe that the death rate could be even lower because early in an outbreak mild cases are seldom reported. With proper care and precautions at the onset, the mortality rate can be further reduced.
How Does it Spread?
Coronavirus appears to be highly transmissible and can spread in the following ways:
Close contact with another person (about 1 meter)
Through respiratory droplets produced when someone sneezes or coughs
If you touch hard surfaces that might have the virus on it and then touch your nose, mouth or eyes.
How Can I Protect Myself?
Standard recommendations to prevent infection spread are:
Avoid close contact with anyone showing symptoms of respiratory illness such as coughing and sneezing
Avoid touching your eyes, nose, and mouth
Stay at home if you are sick
Cover your mouth while coughing or sneezing with a tissue, then throw the tissue in the trash
Clean and disinfect frequently touched objects and surfaces using a regular household cleaning spray or wipe
Avoid handshakes & wash your hands often with soap and water for at least 20 seconds especially after going to the washroom, blowing your nose, coughing or sneezing
If soap and water are not available, use a sanitizer or at least 60% alcohol gel
Avoid traveling and going to crowded places
Stay away from a live cattle market
Steps Being Taken By CK Birla Hospital
At the CK Birla Hospital, Gurgaon, we are closely monitoring all developments related to the COVID-19 infection. Your health and safety is the highest priority for us.
In recent days, we have put in place several measures to protect our patients, employees, and visitors from potential exposure and to reduce the risk of the spread of COVID-19. These include:
1. Extensive Screening
We are conducting an extensive screening of everyone entering the hospital. Anyone at risk is being screened out as per Government guidelines and the Hospital policy
To facilitate this, we have restricted entry of vehicles to the hospital
2. Restriction on Visitors
Visiting hours have been suspended. Only one attendant is allowed to accompany a patient.
Only patients, their attendants, and staff members are allowed inside the hospital premises – all other visitors are not being allowed inside the premises.
3. Stringent Hygiene & Sanitization Protocol
Stringent hand washing and sanitization protocol are being followed throughout the hospital by all the care teams.
We have increased the cleaning rates of all high touch surfaces within the hospital premises such as door handles, reception desks, etc.
Personal protection equipment like masks and glasses have been provided to all our clinical and patient-facing teams for the safety of our patients and our teams.
In order to keep everyone safe, we are ensuring that anyone entering the hospital will be asked to wear a mask.
4. Information Dissemination & Training
We are providing up to date information on various dimensions of the COVID-19 infection to our patients, their families and our staff. We are closely following the Government and WHO guidelines and conducting extensive training for our staff so that they are following the right protocols and are sensitive to the needs of our patient's safety.
In case you have travelled outside India in the last 14 days or have come in close contact with a COVID-19 positive patient or you feel you may have contracted the virus, we request you to delay your visit to the CK Birla Hospital and report to:
The Gurgaon Nodal Centre, SGT Medical College Hospital & Research Institute, Budhera, Gurgaon – 122505, Near Sultanpur Bird Sanctuary or call the COVID-19 Helpline for Gurugram (M: – +91 9911519296; L: +91 124 2322412)
The Delhi Nodal Centre, RML Hospital, Baba Kharak Singh Road, Near Gurudwara Bangla Sahib, Type III, Connaught Place, Delhi, 110001:  011 22307145 / 011 22300036 CATS Ambulance (9717655774)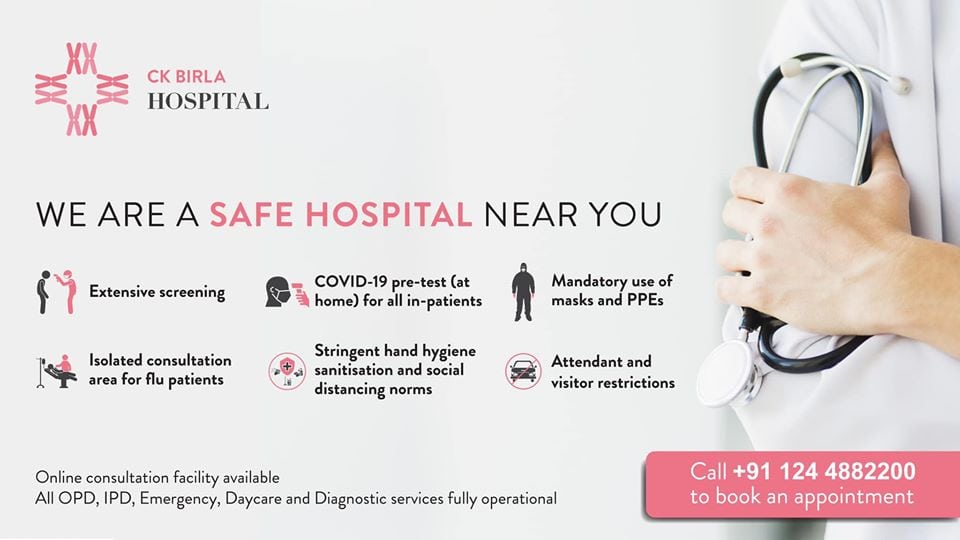 Our OPD department is fully functioning and we reassure you that CK Birla Hospital is a safe place to come, however, if you would rather speak to your doctor on a video call then we now offer this service as well.
Please call us on +91 124 4882200 and our hospital representatives will guide you on how to book an appointment and about the process.