The CK Birla Group
The CK Birla Group
The CK Birla Group is a fast-growing $2.8 billion, diversified conglomerate with a myriad of interests across Healthcare, Education, Automotive, Technology, Home and Building industry clusters. Known for its long-standing partnerships, trust-based relationships and philanthropy, the group has built a rich heritage of over 150 years with presence across five continents and has been catering to the rapidly changing needs of customers, partners and communities. The business group is recognised for its initiatives in scientific research, development and preservation of India's heritage, educational centres and healthcare institutions and has invested in the professional growth and well-being of over 25,000 employees.
Our hospitals
Our hospitals
CK Birla Healthcare
CK Birla Healthcare is a venture designed to transform the provision and culture of healthcare in India. It is a chain of world-class hospitals focused on the healthcare needs of the family delivered with warmth, responsiveness and sensitivity.  Our hospitals include state-of-the-art facilities that offer exceptional clinical care in an ethical, compassionate and patient-led environment. Our centres are located in Gurgaon and West Delhi serving the needs of the community in Delhi NCR. 
Birla Fertility & IVF
Birla Fertility & IVF is dedicated to helping couples and individuals overcome fertility problems with clinically reliable, comprehensive, and patient-centric care. Upholding the Group's legacy of setting benchmarks of excellence and quality across industries, the chain of fertility clinics is built upon the vision of transforming the future of fertility globally by delivering clinically reliable, innovative and research-driven fertility care with compassion and empathy.
The centres are managed by highly recognised fertility specialists with a combined experience of over 14,000 IVF cycles. State-of-the-art IVF labs are equipped with the latest assisted reproductive technology and are designed as per international standards for clinical excellence. Watch the brand video here.
Calcutta Medical Research Institute (CMRI)
The Calcutta Medical Research Institute (CMRI), Kolkata is eastern India's first multi-speciality private hospital. The 440-bedded hospital is a NABH, NABL accredited and ISO 9001:2008 certified facility offering the highest levels of care across a wide range of clinical specialities.
Driven by clinical excellence, ethical conduct and patient centricity, CMRI is led by internationally recognised physicians, surgeons and healthcare providers. For over 50 years, the institute has been offering unparalleled care to millions of patients and has a record of performing more than 250,000 surgeries to date.
In line with the group's educational vision, CMRI runs an in-house nurses' training school that is recognized by the West Bengal Nursing Council and accredited to the National Development Board, Government of India for DNB courses. It is also the first Indian institute to conduct a Royal College of General Practitioners (RCGP) course and the first in East India to develop a tertiary eye care centre.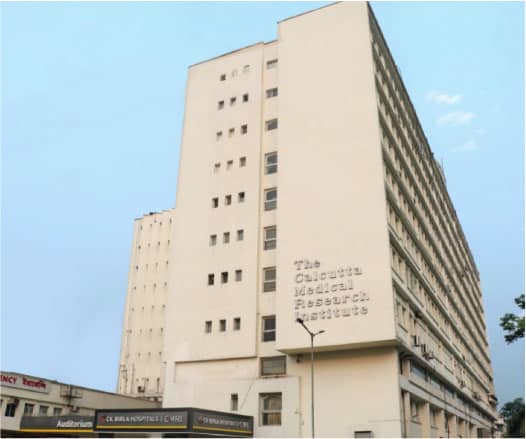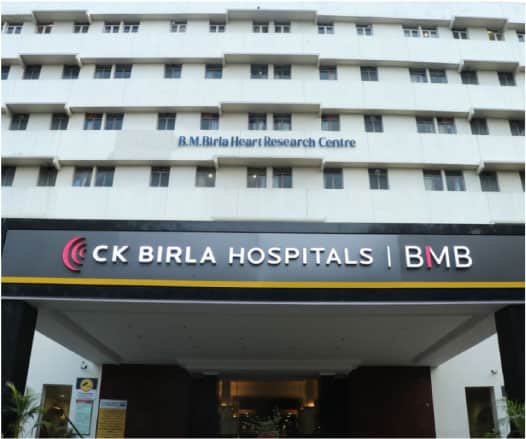 BM Birla Heart Research Centre (BMHRC)
BM Birla Heart Research Centre is a one-of-its-kind healthcare facility. It is the first NABH accredited hospital dedicated to the comprehensive treatment and research related to heart diseases.
Established in 1989, it is the first hospital to be awarded ‌ISO‌ ‌9001,‌ ‌ISO‌ ‌14001‌ ‌and‌ ‌OSHAS‌ ‌18001‌ ‌certifications.‌ The 150-bedded centre is also home to a state-of-the-art laboratory that is recognised by the‌ ‌National‌ ‌Accreditation‌ ‌Board‌ ‌for‌ ‌Testing‌ ‌and‌ ‌Calibration‌ ‌laboratories‌ ‌and‌ ‌the‌ ‌College‌ ‌of‌ ‌American‌ ‌Pathologists‌ ‌(CAP).‌ ‌
Rukmani Birla Hospital (RBH)
Rukmani Birla Hospital is a leading multi-speciality hospital located in Jaipur. The hospital has a capacity of 230 beds and offers comprehensive inpatient and outpatient services to the local community and beyond.
The hospital provides high-quality care across 24 clinical specialities, each equipped with state-of-the-art technology and infrastructure. The healthcare departments are led by a team of highly-trained doctors and nurses who work in a collaborative, patient-centric approach.