Rare Laparoscopic Surgery for Chronic Pancreatitis & Bile Duct Stricture

Overview
A seven-year-old boy visited the Department of GI, Minimal Access & Laparoscopic Surgery at the CK Birla Hospital, Delhi.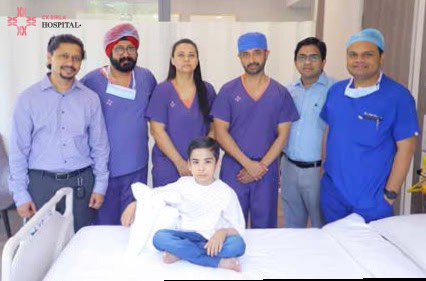 He had complaints of severe abdominal pain that had been affecting him for the last 3 years. The patient was also reported to be hospitalised several times for pain management.
Consultation
Dr Amit Javed, a leading laparoscopic G.I.surgeon attended to the patient and evaluated his condition. Dr Amit suggested a few tests and screenings to precisely diagnose the condition.
The Problem
The findings revealed that the patient had multiple strictures in the pancreatic duct along with the presence of multiple stones in the pancreas. He was also suffering from bile duct obstruction. After analysing the findings of the tests, Dr Amit went ahead with the laparoscopic surgery as this was the best treatment for the patient. 
The patient had visited various other hospitals earlier seeking relief. However, he was denied surgical intervention due to his age and low weight (17 kgs). Moreover, Dr Amit decided to perform laparoscopic surgery to treat the patient.
Treatment
The surgical team at the CK Birla Hospital, led by Dr Amit, successfully performed a complex laparoscopic surgery to treat the patient. Using the laparoscopic technique, the team of surgeons opened the entire pancreatic duct and removed the stones surgically. After that, the team created a new passage for the uninterrupted flow of pancreatic juice and bile juice.
After performing the surgery, Dr Amit stated "Only a handful of cases of laparoscopic surgery in small children have ever been reported and this is probably the first in India." A minimally invasive surgical procedure such as laparoscopy is rarely used to treat chronic pancreatitis and associated bile duct stricture. 
Dr Amit is an expert Gastrointestinal, Gastrointestinal Cancer, Laparoscopic & Bariatric/ Weight Loss Surgeon with over 20 years of experience. He is skilled in minimally invasive/laparoscopic surgeries and has been a mentor to many budding surgeons. He was also the first in India to perform Whipple's Surgery to cure pancreatic cancer in a 6-month pregnant lady.
Recovery
The surgical procedure was completed without any complications and the child recovered quickly. He was closely monitored by the surgical team and discharged from the hospital after 4 days of the surgery.
The patient greatly benefitted from laparoscopic surgery that offered him quick and long-term relief, allowing him to lead a normal, healthy and happy life.
Benefits of laparoscopic surgery include:-
Less pain

Smaller scars

Less blood loss

Shorter hospital stay

Reduced risk of infections

Quick and comfortable recovery
What is Pancreatitis?
Pancreatitis is the inflammation of the pancreas, which is a long, flat gland that sits tucked behind the stomach in the upper abdomen. The pancreas produces enzymes that help digestion and hormones, helping regulate the way the body processes sugar. Pancreatitis can occur as acute pancreatitis that appears suddenly and last for days. 
However, some people may develop chronic pancreatitis that occurs for many years. Mild pancreatitis improves with treatment. However, severe cases can cause life-threatening complications. The most common symptoms of chronic pancreatitis may include:-
Losing weight without trying

Oily, smelly tools (steatorrhea)

Abdominal pain that feels worse after eating
Why Immediate & Proper Treatment Is Needed
Chronic pancreatitis can impair the flow of pancreatic juice leading to severe abdominal pain. Bile duct stricture impairs the flow of bile leading to jaundice. Pancreatitis is a life-threatening condition if left untreated.
Recurrent pancreatitis may cause blood and fluid loss causing life-threatening conditions such as multi-organ failure. Therefore, timely medical intervention and proper treatment are needed.
Why Choose The CK Birla Hospital?
At the Department of GI, Minimal Access & Bariatric Surgery, CK Birla Hospital, we offer a comprehensive range of surgical treatments including surgeries for cancer, general and gastrointestinal, and breast and obesity for both women and men.
Our doctors are trained in the latest minimally invasive laparoscopic procedures to treat a wide spectrum of conditions, ensuring that recovery time is considerably minimized. Precision in diagnosis and treatment is of paramount importance to us.
Our team of surgeons, anesthetists, intensivists and nurses use the latest equipment and innovative procedures to ensure accuracy, safety and the best clinical outcomes.
We offer:-
World-class laparoscopic equipment – ICG, RFA, MWA

State-of-the-art endoscopy suites

Painless LASER treatment

Cashless insurance tie-ups

24×7 ICU and Critical Care back-up

Multidisciplinary team-based approach

Safe hospital with strict protocols in place

100% safe and precision-driven procedure

Comfortable and spacious patient rooms and amenities

Experienced team specializing in GI, bariatric and anorectal surgeries
If you experience the symptoms of pancreatitis or suffering from any gastrointestinal diseases or disorders, and seeking the most effective and personalized treatment, you can book an appointment and consult our doctors now.