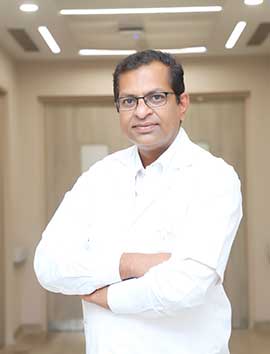 Dr V. Anand Naik
MS (Orthopaedics), PFET- FRACS (Australia), Spine Surgery Fellowship (Australia, USA, Singapore, South Korea, Japan), FAPSS & FAPOA (Japan, Malaysia)
Dr V. Anand Naik is a renowned spine surgeon with over 21 years of experience. He has the credit of introducing a few spine surgeries for the very first time in India including Lumbar Hybrid with second-generation mono-bloc viscoelastic Artificial Disc Replacement (LP-ESP), Extreme lateral interbody fusion XLIF (first team in Asia as well), Navigated Sacroiliac Joint Fusion with SiLok screws, MIS 360 fusion for adult degenerative scoliosis and Metallic Ti – additive 3D printing of spine parts and devices for complex reconstruction of tumours of the spine. Dr Naik also designed and introduced real-time robotic navigation of lumbar disc replacement devices aimed at enhancing accuracy and patient safety in India. He also has numerous spine device innovations and patents to his credit. He is a peer reviewer of high impact spine journals like IJSS, ISASS and Indian Spine Journal. He has been previously associated with institutes like Gold Coast Spine & Allamanda Private Hospital (Australia), University of California (USA), Singapore General Hospital (Singapore), University of Malaya (Malaysia), Guro Hospital (South Korea), Rizzoli Orthopaedic Institute (Italy), Medanta-The Medicity (Gurgaon).
Areas of Interest
Areas of Interest
Artificial Intelligence and Mixed Reality Spine Surgery
Robotic Navigation Spine Surgery
Lumbar Disc Replacement (2nd Generation ViscoElastic artificial disc - LP ESP)
Revision Spine Surgeries (for failed spine surgery)
Cervical Disc Replacement and Hybrid fusions
Anterior Lumbar Interbody Fusion and Hybrid fusions
MiS TLIF / XLIF / OLIF
Adult Degenerative Scoliosis Surgery
Infantile & Paediatric spine deformity surgery
MiS 360 - Fusion Surgery
MiS / Navigated Sacroiliac Joint Fusion
Spine Tumor surgery with 3D printed Ti Vertebral devices
Conditions Treated
Conditions Treated
Scoliosis
Disc replacement
Joint disorders
Knee pain
Back pain
Meniscus tear
Ankle ligament injury
Club foot
Achilles tendon
Tarsal Tunnel Syndrome
Spinal deformity
Degenerative‌ ‌spine‌
Arthritis
Osteoporosis
Sports injuries
Shoulder dislocation
Flat foot
Hallux Valgus deformity (Bunion)
Frozen shoulder
Cervical Spondylitis
Developmental Dysplasia of the Hip (DDH)
Metabolic bone disorders
Musculoskeletal disorders
Bone and joint deformities
Multiple joint pain
Cerebral palsy
Education & Training
Education & Training
MBBS from Maulana Azad Medical College, University of Delhi, New Delhi
MS in Orthopaedics from University College of Medical Sciences, University of Delhi, New Delhi
Post FRACS Education & Training in Spine Surgery from Gold Coast Spine & Allamanda Private Hospital – Royal Australasian College of Surgeons, Gold Coast, Australia
Visiting International Surgeon -Spine Surgery from University of California, San Francisco, USA
Fellowship in Spine Surgery from Singapore General Hospital, Singapore
Spine Surgery Observership (1 month) from National University Hospital, Singapore
FAPSS and FAPOA (Travelling Fellowship) from University of Malaya, Kaula Lumpur, Malaysia & Gifu Hospital, Nagoya, Japan
Fellowship in Infantile and Paediatric Spine Deformity from Guro Hospital, University of Korea, Seoul, South Korea
Fellowship in Spine Tumor Surgery from Rizzoli Orthopaedic Institute (IOR), Bologna, Italy
Patient testimonials
Patient testimonials
I have had an excellent experience with Dr. Anand Naik. I had undergone a spinal deformity correction surgery from him. He has excellent knowledge, experience and skill. His skills make you assured that your health will be good under him. I liked the fact that he is a brilliant listener and explains the problems in detail. My surgery was successful and I had recovered very quickly because of his guidance. I am very grateful to Dr Naik and his team Thanks to the whole team of CK Birla Hospital.
Sahil
Dr Anand Naik is an excellent doctor. My mother has a slip disc problem which was causing her a lot of trouble. She was unable to lie down properly and had started to sit with difficulty. We were first consulting a different doctor but he couldn't help my mom. I wanted the best treatment for my mother so I researched a lot and then found out about Dr Anand Naik. He is the best spine surgeon in Gurgon. He has even started some of the surgeries himself. I felt very confident about his work because of his past experience and took my mother to see him. Truly he is a great person. He was very thorough and analysed my mother nicely. The entire treatment journey with him went very smoothly and nicely. My mother is recovering slowly under him. She is doing very well all because of Dr Naik and his expertise. A big thanks to the doctor Thanks to the whole team of CK Birla Hospital.
Manisha
10/10 experience. Dr Naik is excellent in his approach. His style of working and his way with patients is very unique. I am completely satisfied and would happily recommend him Thanks to the whole team of CK Birla Hospital.
Sanya