Times Health Survey 2022: The CK Birla Hospital® celebrates excellence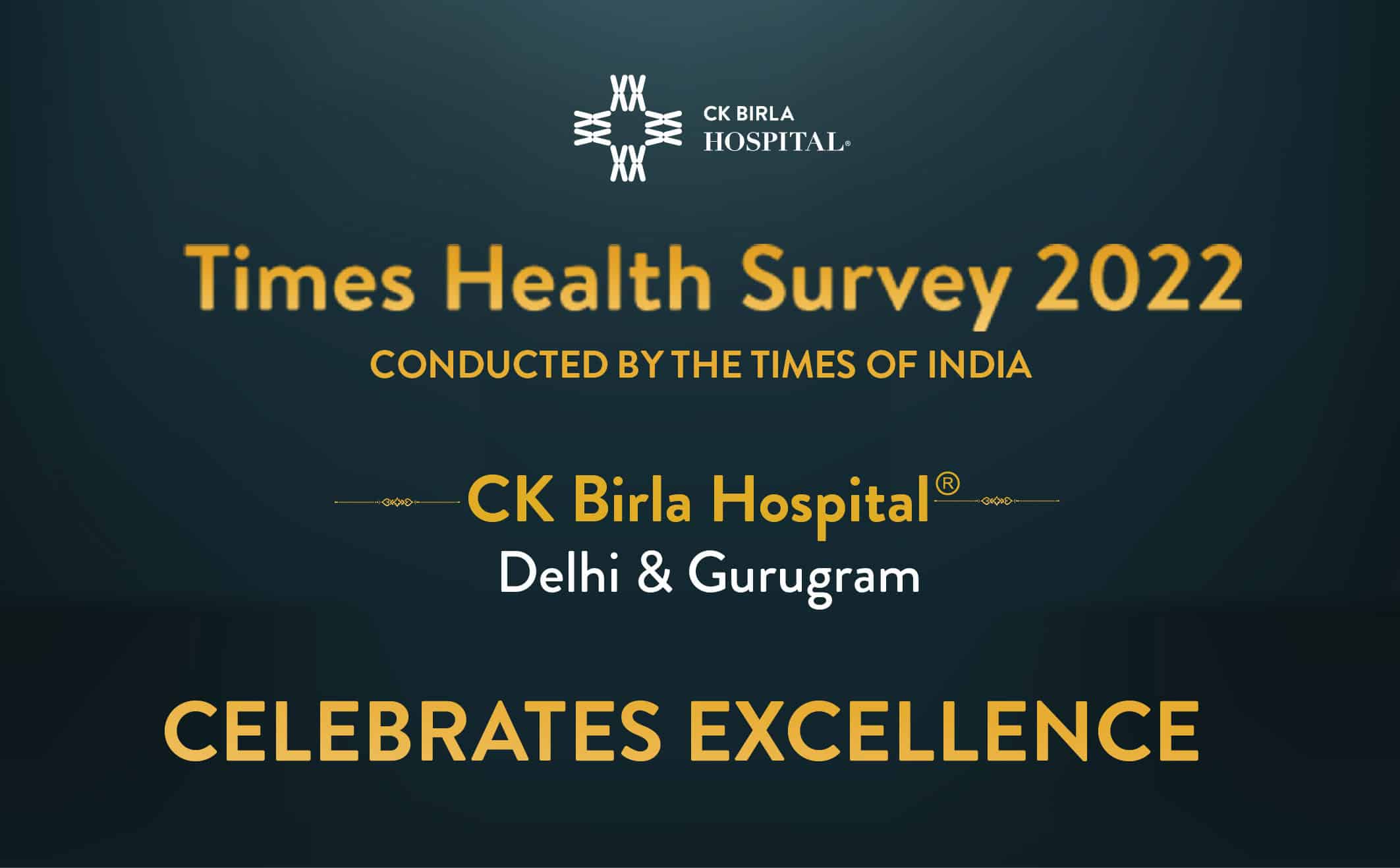 The CK Birla Hospital® is dedicated to delivering globally benchmarked clinical services with the highest standards of integrity. Patients are at the heart of every interaction and our dedicated team of experts provides the assurance of exceptional clinical outcomes.
In our journey towards achieving excellence in healthcare, every award and recognition brings us closer to realising our mission of delivering global standards in clinical expertise and patient care. This is why, it gives us immense pleasure to announce that, the CK Birla Hospital® Gurugram and the CK Birla Hospital® Delhi have ranked among the premiere healthcare institutions of the country in the Times Health Survey 2022 by The Times of India. Conducted at the national, regional and city levels for the last 10 years, this prestigious survey has been celebrating institutions that consistently deliver excellence in healthcare in India.
The CK Birla Hospital® Gurugram
Our commitment to delivering high-quality care inspires our decision-making every day.
We thrive to measure up to global benchmarks in healthcare services, with a comprehensive range of services, spread across multiple specialities like Mother & Child, Oncology, Orthopaedics, Advanced Surgical Sciences, Family Health and Emergency & Critical Care.
Department of Oncology: Ranked 3rd in Gurugram
The CK Birla Hospital® offers a full spectrum of services in surgical oncology including screening and advanced treatments applicable to cancers of all stages. Our multidisciplinary team of oncologists and specialists provide supportive home-like care and tailor-made treatment plans to deliver exceptional outcomes.
Department of Obstetrics & Gynaecology: Ranked 2nd in Gurugram
The coordinated care team provides exceptional patient care throughout the stages of pregnancy, to give every couple a memorable birthing experience. From being the pioneers of water birthing in North India, we aim to consistently maintain excellence in our OB-GYN services with a special focus on normal birthing and high-risk pregnancy management.
Department of Paediatrics: Ranked 2nd in Gurugram
The CK Birla Hospital® stands out for compassionate patient care, especially when it comes down to treating children and infants. With an internationally trained set of experts, we are adept at managing critically sick neonates and premature babies, while handling neonatal emergencies and child health. Our modern level III NICU and advanced foetal medicine centre make the CK Birla Hospital® Delhi NCR's preferred birthing destination.
Department of Gastroenterology: Ranked 3rd in Gurugram
The CK Birla Hospital® stands out for minimally invasive gastrointestinal & bariatric surgeries, thanks to the internationally renowned surgeons onboard. We offer high-quality, specialised services in the assessment & management of gastroenterology and liver problems. Our team of professional gastroenterologists are skilled in offering personalised care to patients based on their unique biological markers and underlying symptoms.
Department of Urology: Ranked 4th in Gurugram
Our advanced painless and scarless LASER treatments are highly effective in treating kidney stones and prostate problems. We prefer minimally invasive ways, wherever possible, to treat complex urological issues. We know the importance of discretion and privacy required while dealing with urological issues, hence we focus strongly on providing a comfortable and private environment as well as counselling to aid recovery. Our urological experts work in conjunction with our skilled oncologists and gynaecologists to treat urological cancers and female pelvic disorders.
Department of Emergency Medicine
We have been featured in the Top 10 Emergency Services in Gurugram. Our state-of-the-art infrastructure and experienced team of healthcare providers ensure that every patient gets prompt attention to help avert a bigger crisis within the golden hour.
The CK Birla Hospital® Delhi has also earned a special accolade as the Emerging Multispeciality Hospital, a coveted honour dedicated to hospitals with less than 3 years of operations.
The CK Birla Hospital® is committed to the healthcare needs of patients, delivered with warmth and compassion by an experienced team of experts of national and international repute to ensure clinically reliable and safe healthcare delivery. Our caregivers are always willing to go the extra mile to promote trust by upholding ethical behaviour. We are grateful for the trust and support we have earned from our patrons over the years and strive to scale it up each day.