Successful Robotic Joint Arthroscopy for Rheumatoid Arthritis

Background
Mr Botor from Uzbekistan came to us with an advanced case of Rheumatoid Arthritis. At the young age of just 33 years, he had already undergone total hip replacement surgery. The surgery was performed five years ago but the patient showed no improvement in his condition.
When he met Dr Ashwani Maichand at the CK Birla Hospital(R), Delhi, his knees were severely deformed, and the pain was unbearable. Due to this, he was walking with the help of crutches. He was on a high dose of steroids to manage the pain.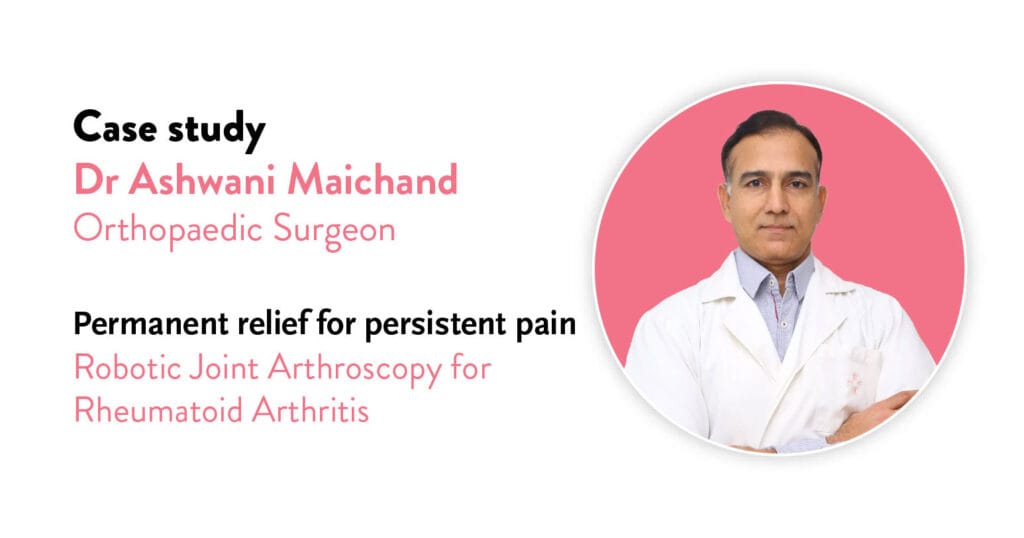 Investigation & Analysis
Based on the patient's current condition and medical history, further investigations were carried out for a more precise diagnosis. The results revealed that the patient was suffering from osteoporosis which led to further deformity. With all these aspects kept into consideration, a thorough evaluation was carried out. Dr Maichand also discussed the findings with the patient's wife who is a gynaecologist and understood the technicalities of the case.
Dr Ashwani Maichand concluded that Mr Botor will be greatly benefitted from Robotic M.I.S. knee replacement.
Treatment and management
Robotics is the latest technology that has revolutionised high-precision surgical procedures worldwide. They not only help surgeons execute surgeries with precision, but also provide real-time AI-based backup to deal with and manage any kind of problems that might crop up during the surgery.
The primary reason Dr Ashwani Maichand opted for this procedure was to ensure quick recovery for a persisting problem that was only deteriorating with time. With robotic surgery patients can be assured of:
Precise and accurate surgery without any scope of manual errors.
Better accessibility to delicate regions to treat the core issues.
Reduced complications such as infections and blood loss.
Lower chances of restorative and revision surgeries in future.
Reduced hospital stay, with quick recovery time.
Given the amount of pain and discomfort the patient had endured over time, this was the best fit for him. Needless to say, the advanced skill set of Dr Ashwani Maichand helped ensure that the surgery was successful.
Post Operative Care
Post-surgery it was observed that the previous deformities were fully corrected. The patient was walking without support within 48 hours of his surgery. By day 3 he was also able to climb stairs.
Our commitment to delivering the highest standards of clinical excellence reflects in the combination of latest robotic systems with specialised surgical techniques which ensure a good quality of life for the patient in the long run.