Successful removal of Concealed Gallstones By best GI & Bariatric Surgeons

Background
Recently we found ourselves in a unique case of Gallstone disease. An elderly lady came to seek consultation with Dr Mayank Madan & Dr Saurabh Garg, at the CK Birla Hospital, Gurugram, with a dilated common bile duct (CBD) and pain. The most common causes for these are CBD stones, chronic pancreatitis, and periampullary diverticulum.
Based on her age and condition, CBD stone had the highest probability, and it could prove to be fatal. To confirm this further investigative procedures were carried out.\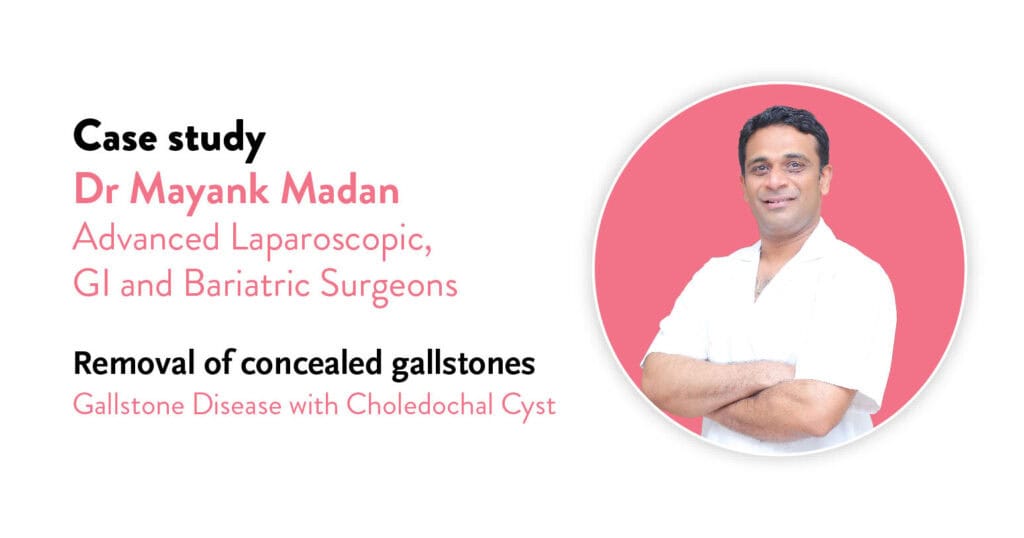 Investigation & Analysis
Women are at a higher risk of getting gallstones due to hormone imbalance and obesity. A Magnetic resonance cholangiopancreatography (MRCP) was carried out to obtain accurate imaging of the main area of concern. MRCP results showed no calculus in CBD. Biliary calculi suggest the presence of stones in the main biliary pathway which transmits the bile. This did not rule out gallstones but was indicative of choledochal cysts. To relieve the pain this needed to be surgically removed.
Treatment and management
Intraoperatively it was seen that the gallbladder was distended with omentum parietal adhesions. A distended gallbladder implies that it was swollen or enlarged and does not function properly. Adhesions signify the presence of inflamed scar tissues that need to be repaired.
In this case, the CBD was dilated in a fusiform way throughout the whole extrahepatic course. Finally, it was confirmed that the patient had a Choledochal cyst (type 1). To repair this, the cystic duct was flushed along with the dilated cyst. And this contained a large stone.
Post menopause the levels of oestrogen and progesterone fall leading to the perfect cause for developing gallstones. This patient unfortunately ticked all the boxes. Given the presence of a large stone, it was decided that the gallbladder would be removed.
The stone was milked back into the Gallbladder and the organ was extracted after suturing the lateral CBD wall with sutures. The surgery was a resounding success.
Post Operative Care
Post-operative care in this case is vital and needs ample support from a good diet to help the body adjust to the changes post-removal of the gallbladder. We are happy that we could give the patient another chance to lead a happy, healthy and painless life.