Why Is Quarantine Important to Battle COVID-19 in India?

India is fighting an arduous battle to contain the spread of novel coronavirus disease. According to the latest stats released by the Ministry of Health and Family Welfare, as of 21 March 2020, a total of 298 COVID-19 cases have been reported in 22 states/union territories of India. Out of this, 23 patients have been cured, one has migrated, while four succumbed to the disease.
How to Prevent the Spread of Coronavirus Disease
Washing your hands regularly for a minimum of 20 seconds and avoiding contact with contaminated surfaces are the best methods to keep yourself from contracting the disease. Apart from these precautions, self-quarantine has also been recommended to all citizens of India.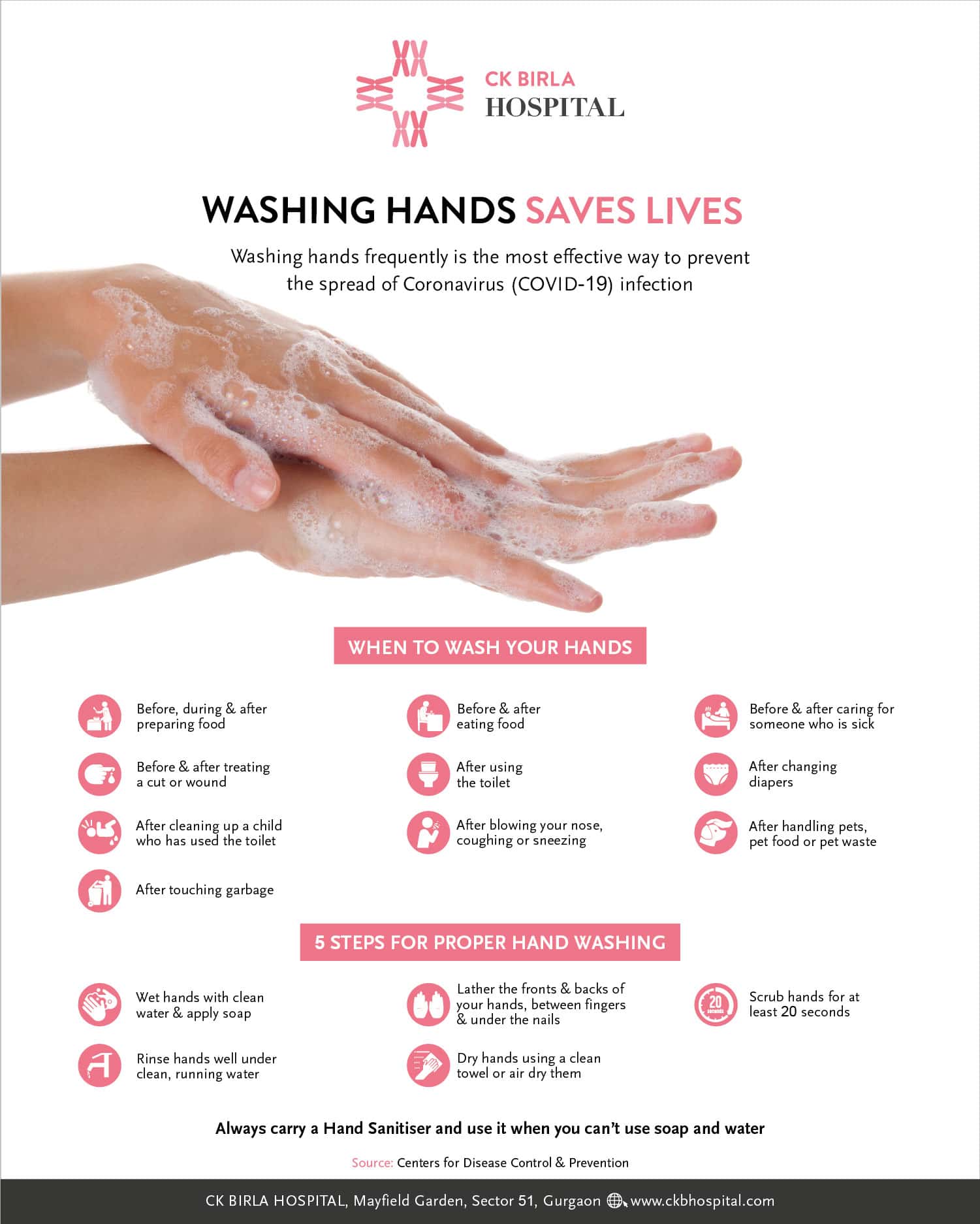 India has been able to manage the outbreak until now with only a few reported cases. However, it is suspected that we are currently in the third stage of the pandemic, which means the number of infected people will multiply exponentially shortly unless we take proper precautions.
In light of this situation, the central and state governments have set up additional labs for free coronavirus testing. Moreover, for the good of the public, they have updated the protocols for screening for COVID-19. 
What Does Quarantine Mean?
Quarantines are generally used by governments to prevent the spread of contagious diseases. Quarantine is meant for people who do not have any symptoms of the disease but have been exposed to the sickness. This group of people includes relatives of patients, caregivers, friends, etc.  Quarantine, however, must not be confused with isolation. Isolation is a precautionary measure for individuals who are already sick to keep them away from those who are healthy.
Home-Quarantine and COVID-19
Amid the pandemic outbreak, the responsible citizens of the country need to make educated choices for their own health, as well as of others. To prevent the spread of coronavirus disease, the Ministry of Health and Welfare has advised a self-quarantine of 14-days for anyone who: 
Comes in contact with an individual infected with coronavirus, physically or with his or her infectious secretions without protective gear

Lives in the same household as an infected person

Had close or face-to-face contact (up to 1-metre) with a COVID-19 suspect, even during air travel
Presently, there's no legal sanction behind this recommendation. However, it is an important step that will go a long way in helping India win this fight against COVID-19.
What to Do in Quarantine
All quarantines are not the same. However, if you are home-quarantined for COVID-19, we have compiled a list of dos and don'ts to help you complete your quarantine successfully without adversely impacting your mental and physical health.
Stay at one place – This is the most crucial aspect of your quarantine. Limit yourself to one, well-ventilated room and avoid contact with others. You should strictly not entertain any visitors at this time. Instead, spend your time doing something you never had the time for – such as painting or writing or even catching up with friends over the phone.
Avoid mass gatherings – A person under quarantine must not attend any weddings, funerals or religious functions. They must also stay away from the elderly, small children, those with compromised immunity and pregnant women. 
Maintain proper hygiene – Do not swap plates, share food, or use common cutlery. Instead, eat in your room and wash your utensils properly before replacing them in the common area. You should clean and keep your utensils and laundry separate during this period.
Your dog is safe – Dogs and cats cannot transmit coronavirus, and there's no reason to abandon them. However, if you are under quarantine, avoid kissing, petting or hugging your pets for a few days.
Wash your hands often – At the cost of sounding repetitive, we would once again reiterate the importance of washing your hands with soap for at least 20 seconds after you touch any surface and before touching your face or having meals.
Wear and change masks regularly – Wear a mask at all times and change it after every 6 to 8 hours. Used masks should be first disinfected and then burnt, instead of being directly disposed of.
Guidelines for Family Members
If you have a family member in quarantine, make sure that you limit contact by assigning only one person to take care of the quarantined individual.

Clean all the surfaces, including toilets, with household bleach or phenolic disinfectants. Frequently touched surfaces in the quarantined person's room must be cleaned with 1% Sodium Hypochlorite Solution.

In case the quarantined person develops symptoms of COVID-19, contact a doctor immediately. In this situation, all the close contacts of the individual would be quarantined for 14 days, followed by compulsory testing and another 14-day quarantine or until the test results turn out to be negative.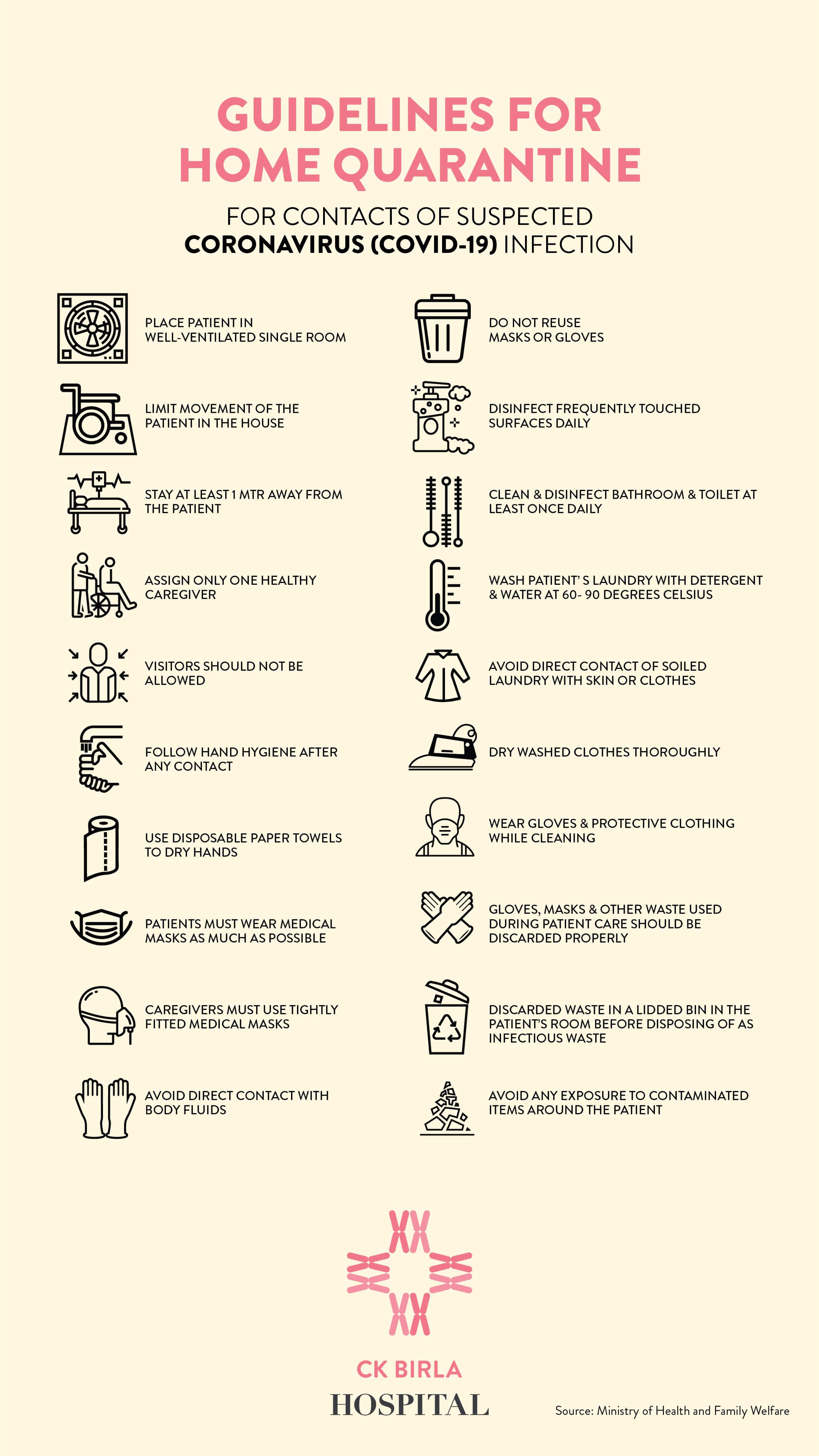 Prevention Is Better Than Cure
There is a lot of wisdom in this age-old saying that prevention is better than cure. That's why we urge you to take proper precautions and play your part in helping India fight this global pandemic. Here are some tips to stay safe from COVID-19:
Avoid mass gatherings and unnecessary travel.

Practice social distancing by avoiding meeting people.

If you must meet someone, keep a distance of 1 meter from any individual in your vicinity.

Wash your hands with soap and water regularly.

Carry an alcohol-based sanitizer for emergency use.

Follow a healthy diet and avoid eating out.

Practice Yoga at home to maintain your health.