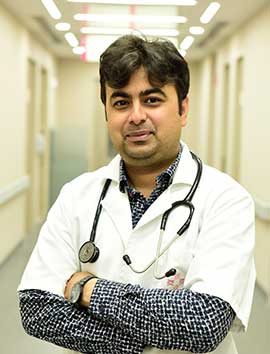 Dr Saurabh Khanna
MBBS, DNB in Pediatrics, Diploma in Child Health, Fellowship in Neonatology (FIAP)
Dr Saurabh Khanna is an expert Neonatologist and Paediatrician adept at managing critically sick neonates and premature babies, neonatal emergencies and child health. He is a national level trainer for NRP. As a Neonatologist & Pediatric Intensivist, he has earned a reputation for being an expert clinician in Pediatrics and is known to be a veteran in the field. Dr Saurabh has an experience of more than 15 years including 12 years as an expert neonatologist and paediatrician. He has previously associated with Fortis Hospital (Shalimar Bagh, Delhi), Jaipur Golden Hospital and Fortis La Femme, (GK, Delhi)
Areas of Interest
Areas of Interest
High-risk Newborn Specialist with Expertise in Premature and ELBW Babies' Care
Neonatal Intensive Care- Expert in Neonatal Ventilation+ Nutrition and Intensive Care
Infectious Disorders Specialist
Asthma and Allergic Disorders for Children
Child and Adolescent Health
Infant Nutrition
Behavioural Paediatrics
Conditions Treated
Conditions Treated
Airway birth defects
Bone tumours
Anaemia
Asthma
Measles
Tuberculosis
Cerebral Palsy
Childhood obesity
Congenital heart defects
Conjoined twins
Leukaemia
Pneumonia
Dental caries
Down's syndrome
Childhood diabetes
Sickle cell disease
Education & Training
Education & Training
MBBS from MP Shah Medical College, Jamnagar
DNB in Paediatrics from Jaipur Golden Hospital, Delhi
Diploma in Child Health (DCH) from King Georges Medical College, Lucknow University
Fellowship in Neonatology from Fortis La Femme, Delhi
Patient testimonials
Patient testimonials
My daughter was born with extremely low birth weight. She started to have problems from the time she was born. I was so anxious and worried. My wife had delivered in CK Birla Hospital so we trusted the team of doctors here. We met Dr Saurabh Khanna when my child developed severe problems. She was instantly moved to NICU. I am so pleased that Dr Khanna was available to help us through this tough time. He is a very intelligent doctor. He was able to care for my child and bring her out of NICU without any complications. He is the best child specialist in Gurgon. I am so happy with my experience with him. My daughter is healthy now and we frequently meet Dr Khanna for a routine checkup Thanks to the whole team of CK Birla Hospital.
Dhavni
Dr Saurabh Khanna is a great paediatrician and the best child doctor near me. I had been consulting him for my son's health and nutrition for over 3 years now. We consult him routinely for any problem my son has. Be it his fussy eating, his vaccinations, his skin problems or any other issue. He is always available and answers all our questions very patiently. You can call him at any time of the day and he never hesitates to respond to you. His recommendations are excellent and also turn out to be productive. I am very happy with the experience and I recommend Dr Khanna to every other parent Thanks to the whole team of CK Birla Hospital.
Rudraksha
Thanks a lot to Dr Saurabh Khanna who treated my newborn amazingly. My child developed a very high fever and breathing issues a few days after his birth. Dr Khanna took a keen interest in my baby's health. He is very highly trained and understanding. He knows that every child is unique and so his approach with children is also unique. His advice is always on point. He was very active in my baby's treatment and made sure that my child recovered as soon as possible. We are a happy and healthy family now. All thanks to Dr Khanna. Thanks to the whole team of CK Birla Hospital.
Juhi