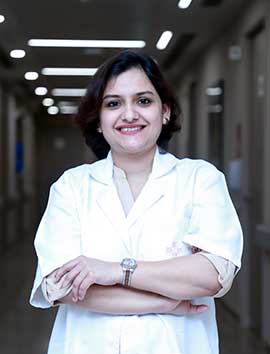 Dr Anamika Yadav
MBBS, MD (Anaesthesiology, Critical Care and Pain), Fellowship in Regional Anaesthesia, Pain Fellowship (Germany)
Dr. Anamika is a skillful pain management specialist. She brings with her an experience of 14+ years and specializes in Ultrasound-guided and Fluoroscopic pain management procedures and offers non-surgical pain management treatment options for chronic and acute pain. Dr Anamika has worked with some of the best hospitals in India including Tata Memorial Hospital (Mumbai) and Medanta, The Medicity (Gurgaon).
Areas of interest
Areas of interest
Back, Neck and TailBone Pain
Headache, Migraine and Facial Pains
Joint, Heel and Wrist Pain
Tennis Elbow and Frozen Shoulder
Myofascial Pain
Peripheral Neuropathies
Fibromyalgia and Centralised Pain Syndromes
Cancer Pain Management
Conditions treated
Conditions treated
Joint disorders
Knee pain
Back pain
Meniscus tear
Ankle ligament injury
Club foot
Achilles tendon
Tarsal Tunnel Syndrome
Metabolic bone disorders
Developmental Dysplasia of the Hip (DDH)
Musculoskeletal disorders
Arthritis
Osteoporosis
Sports injuries
Shoulder dislocation
Flat foot
Hallux Valgus deformity (Bunion)
Frozen shoulder
Cervical Spondylitis
Bone and joint deformities
Cerebral palsy
Multiple joint pain
Education & Training
Education & Training
MBBS from Government Medical College, Nagpur
MD in Anaesthesiology, Critical Care and Pain Management from Tata Memorial Hospital, Mumbai
Fellowship in Regional Anaesthesia from Ganga Hospital, Coimbatore, Tamil Nadu
Fellowship in Chronic Pain Management from Aesculap Academy, Germany
Patient testimonials
Patient testimonials
"Dr Anamika has really eased my treatment journey. I was suffering from intense joint pain and needed something instantly effective. Dr Anamika gave me the solution to all the problems. She is a genius in her field of work. Her approach is very friendly and deems effect almost immediately. I applaud her work and her efforts helping me heal. Thanks to Dr Anamika now I am completely happy and healed." Thanks to the whole team of CK Birla Hospital.
Yukta
"My mother-in-law had been suffering from knee pain for a long time. She is very aged and couldn't bear the distress anymore. We consulted Dr Debashish Chanda for the same and also consulted Dr Anamika Yadav for a thorough treatment. She is a brilliant lady orthopaedic doctor near me with great knowledge. She is understanding of her patients concerns. I was impressed with how well she took care of my aged mother-in-law. Her unique way of work is very very impressive. Totally recommended." Thanks to the whole team of CK Birla Hospital.
Disha
"Excellent experience. Dr is very good. She is the best lady orthopaedic doctor near me. She has a nice nature and she is very experienced. She takes care of patients in a very good way. Would recommend her to friends and family." Thanks to the whole team of CK Birla Hospital.
Rajveer