Why choose us for water birth?
Why choose us for water birth?
North India's only water birthing facility
Labour delivery rooms as per international standards
Expertise in high-risk pregnancy management
Safe birthing with a focus on normal birth
International clinical protocols and safety norms
The CK Birla Hospital is the first and only water birthing facility in North India. Our team of obstetricians include globally renowned water birthing specialists. We are equipped with dedicated delivery rooms designed as per international standards of safety. This state-of-the-art medical infrastructure allows us to provide complete benefits and reduce the need for medical intervention during a water birth. Our care team partners with you to offer a safe, private and comfortable birthing experience of your choice and control.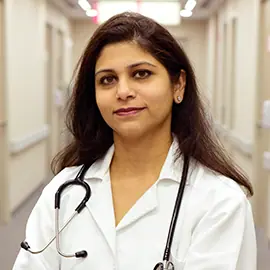 Obstetrics & Gynaecology
Gurgaon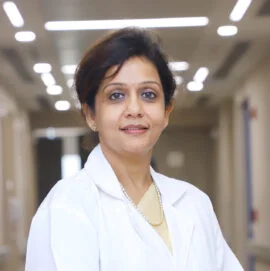 Obstetrics & Gynaecology
Gurgaon
About water birthing
About water birthing
Water birth is an ancient birthing technique in which the expecting mother spends part or the full time of her labour and delivery in a pool filled with warm water. Water birthing is considered a very gentle form of delivery for both the mother and child.
What are the benefits of water birthing?
Pain relief – Water birthing is regarded as the most natural form of pain relief for the mother. The essence and warmth of water alleviate the intensity of labour pain. This allows minimum medicinal interventions and epidurals to reflect a better natural experience.
Easy and free movement – The buoyancy effect of the water allows the mother to move freely within the pool. The decreased gravitational effect underwater also offers more space for the mother to easily change positions.
More control and privacy – Birthing in a pool offers the mother a greater sense of control over her body and movement. The increased space in the birthing pool also expands offers a feeling of more privacy and comfort.
Increased relaxation – Water birthing has proven relaxation and calming effects for the mother. The warm water in the pool adds to the comfort and offers an enhanced experience.
Gentle welcome for the baby – Since your baby has already been in the amniotic fluid sac for nine months, birthing in a similar environment is gentler for the baby and less stressful for the mother.
Is water birthing safe?
Water birthing is a safe delivery option. There is no evidence of increased adverse effects to the baby or woman from labouring in water or delivering in the water. There are some precautions that need to be taken to ensure the well-being of you and your baby which include:
The water temperature must be checked regularly
If your baby is born under the water he/she will be brought to the surface of the water so that breathing can start. These precautions are taken to minimise the risk of overheating and the risk of infection to both mother and baby.
How to prepare for water birthing?
There are no additional preparations that you need to do for water birthing. You should follow your obstetrician guidance strictly. For the delivery, you can choose to wear anything you feel comfortable in.
What to expect during water birthing?
You can expect the following actions to occur during your labour and delivery:
The water temperature will be maintained within a range of 35°-37° Centigrade during the first stage of labour
Your baby's heartbeat will be monitored every 15 minutes
Your pulse rate will be monitored every 30 minutes and your temperature will be monitored every hour
Entonox (gas and air) is the only other form of pain relief you can use in the pool
The water is kept at a level above your uterus
It is advisable that you drink plenty of water to prevent dehydration
When your baby is being born, the water temperature is elevated to 37° C
Your baby is born completely underwater, with no air contact and then raised head first to the surface. We encourage immediate skin to skin contact in the pool.
Who is a candidate for water birthing?
When will I need to come out of the pool?
When will I need to come out of the pool?
During the birthing process, you may be asked to leave the pool because of

Abnormal changes in the baby's heart rate

Meconium staining in your waters (baby has opened his/her bowels)

Bleeding from your vagina during labour or any other complication

If your labour slows down, you may be advised to leave the pool for a while, but you may be able to get in again later