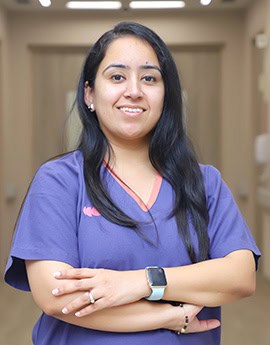 Dr Rachita Munjal
MBBS, MS (Obstetrics & Gynaecology), FRM, DAGE (Germany) Consultant at Birla Fertility & IVF
Dr Rachita Munjal is an experienced fertility specialist, obstetrician, and gynaecologist. She specialises in treating a wide range of fertility problems using ART (Assisted Reproductive Technology) procedures and by developing individualised patient-focused treatment protocols.
She has trained and worked at some of the most reputed medical institutions in the country and has been recognised for her work in the field with awards like the prestigious Dr C.L Jhaveri Award. She is also an accomplished author with several clinical papers published under her name across renowned national and international medical journals.
Dr Rachita Munjal has over 10 years of experience with well-known healthcare institutions including Sanjay Gandhi Government Hospital- New Delhi, Apollo cradle, Apollo hospitals – Chennai and Medicover fertility.
Areas of interest
Areas of interest
IVF
IUI
Recurrent IVF failures
PCOS
Endometriosis
Advanced gynaecological surgeries including laparoscopy and hysteroscopy
Conditions treated
Conditions treated
Male infertility
Erectile dysfunction
Delayed ejaculation
Uterine fibroids
Female infertility
Premature ejaculation
Endometriosis
Low sperm count
Education and training
Education and training
MBBS from Dr D. Y. Patil Medical College, Hospital & Research Centre, Pune
MS (Obstetrics and gynaecology) from Dr D.Y Patil Vidyapeeth Pune
Fellowship in reproductive medicine from Apollo Hospital, Chennai
DAGE (Diploma in Advanced Gynae Endoscopy) from Germany
MRCOG-I (Royal College of Obstetricians & Gynaecologists, UK) Membership Examination
Patient testimonials
Patient testimonials
Dr Rachita Munjal is one of the best fertility doctors in Gurgaon. My husband and I were struggling to conceive since the time we got married. It was a very tense and worrying time for us as a family. I consulted Dr Rachita Munjal at Birla Fertility & IVF. She is a very professional doctor and has a compassionate approach. Thanks to the whole team of CK Birla Hospital.
Sneha Juneja
All thanks to Dr Rachita Munjal that I am a mother of a baby boy now. I was unable to get pregnant due to endometriosis. She understood my problem and gave me superb treatment. It was because of her help that I became healthy and conceived naturally. Very nice experience. Thanks to the whole team of CK Birla Hospital.
Aakriti Shrivastav
Good experience. The centre is very nice. The doctors respect your privacy and give you valuable advice and treatment that helps you in the long run. Very happy with the treatment. Thanks to the whole team of CK Birla Hospital.
Mounika Kapoor