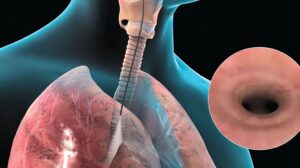 Rigid bronchoscopy is a procedure that helps to access and visualise the larger airways. It also helps to visualise the complete structure of the lungs – oropharynx, vocal cords, larynx, trachea, and proximal bronchi.
Rigid bronchoscopy is used to diagnose and perform treatments of larger airways and lungs, including placing stents, removing secretions and lesions, etc. Rigid bronchoscopy is most effective when used in conjunction with other techniques, including radiologic examinations like CT scans, flexible bronchoscopy, laryngoscopy, esophagoscopy, and many more.
Our skilled pulmonary specialists perform rigid bronchoscopy with the help of a thin hollow metal tube known as a rigid bronchoscope. The procedure is usually done in an operating room under general anaesthesia to provide relief from specific lung conditions.
Rigid Bronchoscope parts
Rigid Bronchoscope parts
Many variations of a rigid bronchoscope are present today. However, rigid bronchoscope parts remain the same:
Barrel: It consists of a bevelled tip in two lengths – 33 cm (tracheal) and 43 cm (bronchial) – for access to different parts. The barrel's outer diameters range from 6 to 14 mm.
Multifunctional head: It consists of several holes and ports on the sides of the tube that allow connecting instruments. An anaesthetic port is also available and enables various forms of ventilation – jet, continuous insufflation, intermittent volume, and spontaneous ventilation.
Light source and optics: It consists of a light source that projects light out of the tube. Moreover, there is scope available to connect the telescope with a camera. It enables the visualisation of the windpipes and lungs during rigid bronchoscopy.
Indications for Rigid Bronchoscopy
Indications for Rigid Bronchoscopy
You may require rigid bronchoscopy if you experience the following signs and symptoms:
Chronic coughing
Obstruction in the airway
Bronchial cancer or tumour
Interstitial pulmonary disease
Severe hemoptysis
Chronic lung infections
Narrowing of the airways
Benign airway stenosis (trauma to the airways)
Benefits of Rigid Bronchoscopy
Benefits of Rigid Bronchoscopy
Rigid bronchoscopy benefits are numerous. It not only provides access to the distal parts of the lungs but also helps in the diagnosis and treatment of lung diseases. So, by opting for rigid bronchoscopy, you will have access to the following benefits:
Deeper biopsy of lung tissue.
Evaluation of toxic inhalants.
Management of massive hemoptysis.
Surveillance of tracheostomy tube.
Removal of a large number of secretions, mucus plugs, blockages, and foreign bodies in the lungs.
Reduction in bleeding in the bronchi.
Removal of lesions (diseased tissues).
Insertion and placement of stents.
Dilation of narrowed airways and tracheobronchial stenosis.
Ablation of bronchial tumour (by assisting in laser therapy).
Procedure for diagnosis and treatment
Procedure for diagnosis and treatment
Prerequisites for rigid bronchoscopy
Our pulmonary specialists will take your detailed physical exam to ensure that you are healthy enough to undergo rigid bronchoscopy. There are no problems with opening your mouth, extending your neck, teeth, etc.
The pulmonologist will review your medical history for any prior neck, facial, or lung surgery. You will need to undergo blood tests, chest imaging tests, including ECG, and many more tests under the guidance of our doctor.
This will be followed by a medical review of your test reports, to check for indications of poor neck mobility, sensitivity to bleeding, low oxygen levels, etc.
If you take medicines, you will have to stop taking specific medication for some time. Moreover, the pulmonologist will answer all your queries and explain the rigid bronchoscopy methods for diagnosis and treatment in great detail.
The answers to these investigations will help the specialists decide the course of treatment since every patient is unique.
During Rigid Bronchoscopy
During Rigid Bronchoscopy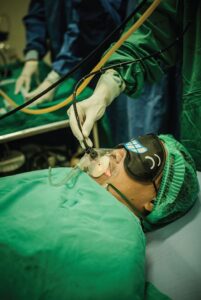 You must not eat or drink anything some hours before the procedure. Also, it is preferable if someone will be there to take you home after a rigid bronchoscopy.
During the procedure, a medical operating personnel will connect you to the necessary equipment – to keep an eye on your blood pressure, heart rate, and oxygen levels throughout the procedure.
Next, the anesthesiologist will inject you with an anaesthetic and a numbing spray medication will be applied on your throat to prevent gagging and choking. After this, the surgeon will extend your neck and place a tooth guard while keeping your mouth open with the index finger. Forthwith, the pulmonary surgeon will insert a rigid bronchoscope into your mouth with the bevelled tip on the top. And the connected anaesthetic port will provide ventilation.
Once a rigid bronchoscope passes your tongue, our pulmonary surgeon lowers it to your chest level. When the bronchoscope reaches your epiglottis (a flap that prevents food from entering your windpipe), it will get lifted. And then your vocal cords can be seen because of the telescope or video camera.
They will now rotate the barrel 90 degrees using the bevelled tip to push one of the vocal cords to the side and proceed further. Again, the barrel will be further rotated 90 degrees as it goes past your vocal cords, positioning the bevelled tip towards the back of the larynx.
The left hand's index finger will advance the scope while maintaining lift on the barrel and the bevelled tip to protect the posterior membrane from damage. Once the barrel reaches the desired position, our pulmonary surgeon will carry out the necessary diagnosis or treatment for your case.
For diagnosis, usually, samples of fluid and tissue are collected. And for treatment, medication and devices are passed down through the rigid bronchoscope during rigid bronchoscopy.
Recovery and outlook
Recovery and outlook
When the procedure of rigid bronchoscopy is complete, you will be kept under observation for a few hours. Our medical staff will check your heart rate, blood glucose, and oxygen levels. Our medical operating personnel will also take your chest X-ray to ensure your lungs are not injured.
Once all your test reports come out okay, no side effects are there, and your throat's numbness has worn off, you will be discharged from our hospital on the same day. You will recover within 1-2 days from rigid bronchoscopy.
You will probably experience discomfort these two days – a sore throat, coughing, and hoarseness. But doing warm gargles and using throat lozenges will help ease your discomfort.
The prognosis of rigid bronchoscopy is good. It is a safe procedure for successfully diagnosing and treating lung diseases.
If you want to have rigid bronchoscopy – you can reach out to us at the CK Birla Hospital. We have a team of experienced pulmonologists, trained anaesthetists, nurses, and other medical personnel.
Our hospital is equipped with cutting-edge tools and technologies for testing. Moreover, we follow all the safety norms and international clinical protocols and perform completely safe and precision-driven procedures. Additionally, our hospital offers critical care facilities and cashless insurance facilities.
If you wish to have an effective rigid bronchoscopy and reap the above benefits, visit the CK Birla Hospital or book an appointment with Dr Kuldeep Kumar Grover.