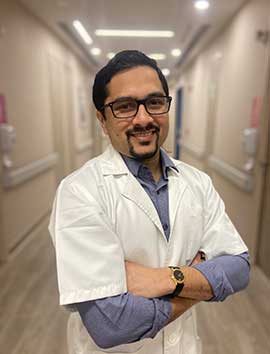 Dr Rohan Khandelwal
MBBS, MS (General Surgery), MRCS (UK), Fellowship in Breast Surgery
Dr Rohan Khandelwal is a dynamic and talented breast cancer surgeon specialising in the management of benign & cancerous breast disorders. He credibly leads the Breast Centre, the only dedicated unit in North India offering comprehensive breast health services. He brings with him over 17+ years of experience and has done more than 500 breast cancer surgeries. Dr Rohan has authored 22 articles in various national and international journals, authored 1 book & 1 video and co-authored 2 chapters. He heads the Medical Affairs at Curofy (Doctors networking App) and is also editor-in-chief for the New Indian Journal of Surgery and Journal of Young Medical Researcher. He has previously worked with Safdarjung Hospital, Max Healthcare, Mazumdar Shaw Cancer Center, Narayana Hrudayalaya, W Pratiksha.
Areas of Interest
Areas of Interest
Benign & Cancerous breast disorders
Gynecomastia Treatment/ Surgery
Conditions Treated
Conditions Treated
Breast cancer
Breast pain
Fibroadenomas
Benign breast diseases
Gynecomastia
Generalized breast lumpiness
Education & Training
Education & Training
MBBS from Vardhman Mahavir Medical College and Safdarjung Hospital, Delhi
MS in General Surgery from Vardhman Mahavir Medical College and Safdarjung Hospital, Delhi
MRCS (UK) from the Royal College of Surgeons
Fellowship in Breast Oncology from Mazumdar Shaw Cancer Centre, Narayana Hrudayala, Bangalore
Hands-on Clinical Fellowship in Advanced Breast Surgery at The Aiello Breast Center, University of Maryland, Baltimore
Patient testimonials
Patient testimonials
Dr Rohan Khandelwal is a very practical and hardworking doctor. He is the best breast specialist in Gurgaon. He is very proactive about his patient's health. My sister-in-law had suggested me to consult Dr Khandelwal at the CK Birla Hospital when I complained of abnormal changes in my breast. He was a very calm doctor. He gave me a thorough and detailed diagnosis soon. He explained that there was nothing to worry about. I had developed a breast cyst. Dr Khandelwal gave me effective treatment and I faced no complications or problems during this time. Very pleased with the experience. Thanks to the whole team of CK Birla Hospital.
Sushmita
Dr Rohan Khandelwal is a wonderful human being. It is because of him and his team that I am free from cancer today. I am very grateful to have consulted him. I came to the CK Birla Hospital after discovering about the Breast Centre. They have all the facilities and services needed for a breast cancer patient. I read up about Dr Rohan Khandelwal and met him initially. He has a very vibrant personality. He is very knowledgeable. He helped me learn about the disease and what all my options were. He was very invested in my treatment. I was very anxious and upset about the diagnosis. And to be honest, there was a time when I had given up on life. I had become so hopeless. But Dr Rohan gave me hope and helped me surf through that tough time. He was available for me in every aspect emotionally or medically. I am very thankful for all the help and efforts Dr Rohan had put into my treatment. His entire focus on getting my health better. Every breast cancer patient must consult Dr Khandelwal. Best experience Thanks to the whole team of CK Birla Hospital.
Simran
Dr Rohan Khandelwal is very determined and polite. I have been consulting him routinely because of my high risk of developing breast cancer. My mother and grandmother had both been affected by breast cancer and so I am a high-risk person. I regularly meet him for screening. He gives me the best advice and lifestyle tips. He is very involved in my wellbeing and helps me lead a better life to keep breast cancer away. I have always had an excellent experience in my consultations. Totally recommend him. Thanks to the whole team of CK Birla Hospital.
Shivani
Watch our patient share her battle with breast cancer and her effective treatment journey
Breast cancer patient talks about her road to beating cancer at the Breast Centre
Cancer care in times of COVID-19 at the CK Birla Hospital, Gurgaon