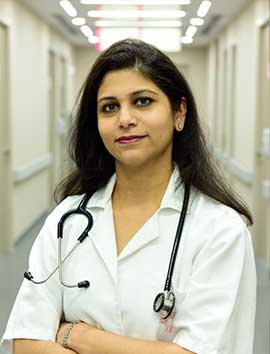 Dr Astha Dayal
MBBS, MD, MRCOG (UK), Fellowship in Laparoscopic Surgery, Fellowship in Infertility
Dr Astha Dayal is a leading obstetrician and gynaecologist with a rich clinical experience of more than 16 years. She is a renowned expert and fellowship-trained laparoscopic surgeon with an experience of more than 70,000 surgeries and deliveries. She is also extensively trained in Water birthing and has the unique distinction of having administered the first waterbirth in Gurgaon. She keenly advocates for preventive wellness for women. Dr Astha has more than 16 years of experience at hospitals of repute including Lok Nayak Hospital, Maulana Azad Medical College (Delhi), Royal College (London), Medanta, Artemis and The Cradle.
Areas of interest
Areas of interest
High-risk pregnancies and deliveries
Minimally Invasive Gynaecological Surgeries
Water birthing
Management of PCOD
Advanced Laparoscopy and Hysteroscopy
Uro-Gynecology
Reproductive Endocrinology
Conditions treated
Conditions treated
Endometriosis
PCOD
Labour & birthing complications
Gynaecological cancer
Menopausal problems
Pregnancy complications
Pelvic floor disorders
Uterine fibroids
Ovarian cysts
Menstrual disorders
Education & Training
Education & Training
MBBS from Maulana Azad Medical College, Lok Nayak Jai Prakash Hospital / Maulana Azad Medical College, Delhi
MS in Obstetrics & Gynaecology from Maulana Azad Medical College, Delhi
MRCOG(UK) from Royal College of Obstetricians and Gynaecologists, London
Diploma and Fellowship in Minimally invasive surgery MAS, (WALS)
Fellowship in advanced infertility and ART (Sir Gangaram Hospital)
Patient testimonials
Patient testimonials
Dr Astha Dayal is the most brilliant doctor for maternal health. She is compassionate, skilled and very focused on caring for her patients. She is the best obstetrician in Gurgaon. She was my doctor when I got pregnant with my second child. She was always available. There were times when I had called her late in the night to ask about my doubts and concerns and she has always given me time and helped me. I am very fond of her approach. Very good doctor Thanks to the whole team of CK Birla Hospital.
Monika
I consulted Dr Astha Dayal for treatment of PCOD. She is the best gynae in Gurgaon. My health was getting highly affected. I gained so much weight. I had irregular periods and lots of facial acne. It really affected my self-image and confidence. I wanted a long term solution. I had heard about Dr Astha from a friend of mine. She was a regular patient and she had praised Dr Astha and her method of practice to me. So I decided to consult her as well. I am very pleased with my decision. She is really the best doctor. She understood my concerns and worked with me on this journey. It is all because of her help and care that I am very healthy today Thanks to the whole team of CK Birla Hospital.
Khyati
Dr Astha Dayal is a very knowledgeable person and the best gynecologist near me. What I like most about her is that she promotes a healthy lifestyle in her everyday practice. She is very honest and forthright but also very friendly and compassionate. My experience under her care was excellent. I thank her and her team and recommend them to everyone seeking gynaecological care. Thanks to the whole team of CK Birla Hospital.
Reshma