Lymphoma is a type of cancer that originates in the lymphatic system. The latter is a network of tissues, vessels, and organs through which the lymph is transported through the body, and back into the bloodstream.
The function of the lymph is to aid the exchange of nutrients and gases between the bloodstream and cells of tissues. The function of the lymphatic system is to protect the human body from infection and disease. It produces white blood cells or lymphocytes, which fight infection by multiplying.
Lymphoma can develop within the white blood cells, the lymph nodes, and sometimes within the spleen. Like any other cancer, lymphoma can be treated.
The earlier the diagnosis, the higher are the chances of complete recovery.
Types of Lymphoma
Types of Lymphoma
There are two types of lymphoma:
Non-Hodgkin Lymphoma
The cancerous cells can develop anywhere in the body, in the lymph nodes. The risks increase as we approach late adulthood – age 60 to 80. Men are more susceptible than women.
Hodgkin Lymphoma
This type typically begins in the upper body in areas like the neck, chest, or armpits. The cancer tends to spread more predictably. This makes it easier to diagnose and treat.
Hodgkin lymphoma is more common in early adulthood – age 20 to 39 – and late adulthood – age 65 and above. Again, men are slightly more susceptible than women to developing Hodgkin's lymphoma in late adulthood.
Lymphoma symptoms
Lymphoma symptoms
Lymphoma cancer symptoms tend to overlap with the symptoms of several other conditions and diseases. Be alert to the following symptoms, and fix an appointment with a specialist for a professional opinion, as soon as possible.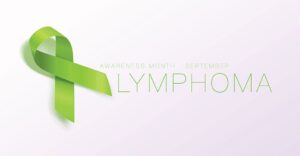 An accurate diagnosis early on can change the trajectory of one's health.
Watch out for these symptoms:
Painless swelling of the lymph nodes in vulnerable areas like the neck, armpits, or groin
Continuous breathlessness
Continuous fatigue
Unexplained bouts of fever
Drenching night sweats
Sudden weight loss
Itchiness of the skin
Lymphoma causes
Lymphoma causes
Those with a family history of lymphoma are at risk of also developing lymphoma. Additionally, many conditions can trigger the development of lymphoma.
Researchers have identified the following causes for lymphoma so far:
Those who live with the following viruses: HIV (Human Immunodeficiency Virus), Epstein-Barr (one of the nine herpes viruses), Kaposi sarcoma human immunodeficiency virus
The immune system has been compromised due to various reasons – poor health, prolonged illness, surgeries
Those with autoimmune diseases are also at risk of developing lymphoma
Those with chronic infections
Lymphoma diagnosis
Lymphoma diagnosis
Medical care providers conduct some tests to aid in the diagnosis of lymphoma, before coming up with a treatment plan. Medical science keeps evolving, so your specialist may use newer methods.
Here's a list of common tests:
Complete blood count (CBC): This test is designed to measure and count the blood cells. It is not specifically used for lymphoma and can detect a number of illnesses.
Blood chemistry test: This test can detect the presence of various substances in your blood.
Computed tomography (CT) scan: Using a series of X-rays and a computer, this scanning machine creates three-dimensional images of the soft tissues and bones, to detect irregularities.
Positron emissions tomography (PET) scan: This process involves injecting a radioactive tracer into the body, which aids in detecting signs of cancer, early on.
Magnetic resonance imaging (MRI): Using a large magnet, radio waves, and a computer, this process creates crystal-clear images of various organs and structures within the body, to detect irregularities.
Biopsy of lymph nodes and other organs: Your specialist will conduct biopsies to access cells, growths, tissues, and fluids, and examine them under a microscope.
Bone marrow biopsy: Your specialist will insert a needle into the pelvic or bone, to extract a small sample of the bone marrow, to detect the presence of cancerous cells.
Lumbar puncture: Also known as a spinal tap, in this procedure, a needle is inserted into the lower back to obtain a sample of cerebrospinal fluid, which is a clear liquid that surrounds the spine and brain. It is used to detect serious infections and the presence of cancerous cells.
Lymphoma treatment
Lymphoma treatment
Several therapies are used to treat lymphoma, and research is continuously evolving to identify newer treatments. Your specialist will diagnose you, and come up with a relevant course of treatment. Popular treatments are as follows:
Chemotherapy: A number of drugs are used to kill cancer cells.
Immunotherapy: This is a type of therapy that stimulates the immune system to fight the cancer cells.
Radiation therapy: As the name suggests, strong beams of energy are used to kill the cancer cells, or stop their growth.
Targeted therapy: This is a type of therapy using drugs and other substances to only attack cancer cells. The aim is not to touch the good cells.
Bone marrow transplant: Stem cells from the bone marrow are transplanted into the body to replace damaged blood cells with healthy cells.
CAR T-cell therapy: Here, the white blood cells are used to kill the cancer cells.
Preventing Lymphoma
Preventing Lymphoma
If one has a family history of lymphoma, it's best to get regularly screened at least once a year. Also being alert to the symptoms and going in for an early diagnosis increases the chances of prevention.
If you notice the symptoms getting more aggravated, then you can even go directly to the emergency room. This includes high fever, abdominal pain, chills, wet cough, and continuous diarrhea.
The Takeaway
The Takeaway
Some Lymphoma risk factors make you more susceptible to the disease than others. These can include exposure to radiation, a compromised immune system, and exposure to certain drugs.
Lymphoma, if diagnosed early, can be treated. Hence, it is advisable not to delay in getting a specialist to run tests and come up with a course of action. Make sure you approach a specialist in a hospital with a well-equipped oncology department, for swift and accurate diagnosis, and treatment.
To seek treatment for lymphoma, visit our specialists at the CK Birla Hospital, or book an appointment with Dr Mansi Chowhan.