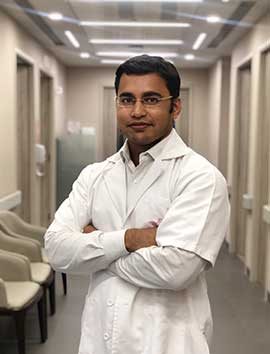 Dr Reetadyuti Mukhopadhyay
MBBS, MS (Orthopaedics), DNB & MNAMS (Orthopaedics), Fellowship in Advanced Shoulder Surgeries (NHS, UK), Fellowship in Arthroscopy and Sports Injuries (Germany & Hong Kong)
Dr Reetadyuti Mukhopadhyay is a highly qualified orthopaedic surgeon in Gurgaon. He is an accomplished expert in the field of advanced arthroscopic shoulder surgeries and the management of sports injuries. He brings over 11 years of experience having done more than 4000 ACL, 700+ PCL surgeries, 5000+ meniscus surgeries, 3000+ rotator cuff repairs and 3000+ bankart repairs. He has worked with top-notch institutions in this field including – Sports Injury Centre, Safdarjung hospital (Delhi), TUM (Munich, Germany), Queen Mary Hospital (Hong Kong), Wrightington (NHS, UK). 
Areas of Interest
Areas of Interest
Advanced shoulder surgeries
Arthroscopy
Shoulder Replacement
Reverse Shoulder Replacement
Shoulder Trauma
Sports injuries
Conditions Treated
Conditions Treated
Joint disorders
Knee pain
Back pain
Menisus tear
Ankle ligament injury
Club foot
Achilles tendon
Tarsal Tunnel Syndrome
Metabolic bone disorders
Developmental Dysplasia of the Hip (DDH)
Musculoskeletal disorders
Arthritis
Osteoporosis
Sports injuries
Shoulder dislocation
Flat foot
Hallux Valgus deformity (Bunion)
Frozen shoulder
Cervical Spondylitis
Bone and joint deformities
Cerebral palsy
Multiple joint pain
Education & Training
Education & Training
MBBS from Maulana Azad Medical College, Delhi and is a gold medalist in MS orthopaedics from PGIMS.
Training in sports injuries and arthroscopy from Technical University of Munich (Germany) and Queen Mary Hospital at the University of Hong Kong.
Fellowship in advanced shoulder surgeries from Wrightington Hospital (NHS) in England (U.K).
Patient testimonials
Patient testimonials
Dr Reetadyuti helped me with my shoulder. I have been playing tennis for more than 15 years now and since 2012 had been suffering from this pinching pain. What is termed as slap injury is now perfectly fine after 2 months of consultation and therapy. Also, the doctor would like to thank you for explaining everything in such minutest details. He is honestly the best joint orthopedist near me Thanks to the whole team of CK Birla Hospital.
Ashish Mittal
Dr Mukhopadhyay is a great surgeon. He gives his full attention and time to the patient. I had a shoulder dislocation so I consulted him, he explained everything about the problem and also 3 months back arthroscopy surgery is done by him which really helped. now I am 90% fit to lift weight. I highly recommend him as he is amazing at his job Thanks to the whole team of CK Birla Hospital.
Arvinth
Dr Reetadyuti is an excellent surgeon he gave me proper guidance on what was wrong with my knee and successfully did an ACL reconstruction surgery he explained the whole procedure and the recovery process and 2 weeks in I feel better every day with the exercises and I am gaining my strength back Highly recommend him for any reconstruction or other muscle and tendon related issues Thanks to the whole team of CK Birla Hospital.
Rohan