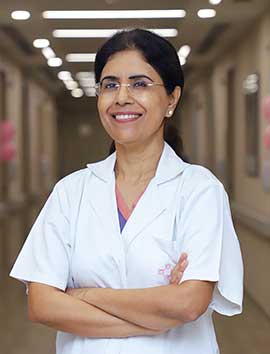 Dr. Anjali Kumar
MBBS, MD (Obstetrics & Gynaecology), FICMCH, FMAS, Certificate Course and Training in Endoscopy from World Association of Laparoscopic Surgeons and Ethicon Endo-surgery Institute
Dr Anjali Kumar is a renowned obstetrician and a gynecologic surgeon with over 32 years of experience in her field. She is counted amongst some of the most experienced obstetricians, gynaecologists, and laparoscopic surgeons in Delhi NCR.
She even has the unique distinction of having a technique named after her (the 'Kumar's Technique' – 'Reverse Uterine Closure Technique'). It is used for suturing the very thin lower uterine segment in previous LSCS patients. This technique was presented, published and accepted at the apex national and international conferences – AICOG 2015 and FIGO -Vancouver 2015.
She specialises in performing advanced gynaecological endoscopic procedures and is known for her successful treatments of patients, both in the country as well as abroad.
Dr Kumar also initiated the concept of "Natural Childbirth Oriented Pregnancy Care" in and around NCR. She was the first one to start patient educational programs and labour preparation antenatal classes for expectant couples in Gurgaon. She has developed patient strategies and labour protocols to increase normal delivery rates and decrease caesarean/ instrumental deliveries. She routinely encourages and focuses on VBACs (vaginal births after caesarean) cases.
She is seen on various television talk shows. She also features numerous columns on gynaecology related issues in leading newspapers, magazines and web portals. Her book "I am Blessed" has touched countless expectant couples all around.
Areas of interest
Areas of interest
High-risk pregnancies and deliveries
Vaginal births after caesarean
Laparoscopic hysterectomy (removal of uterus)
Laparoscopic myomectomy (removal of uterine fibroids)
Laparoscopic management of ectopic pregnancies and ovarian cysts
Laparoscopic fertility enhancing surgeries
Laparoscopic endometriosis surgeries
Operative hysteroscopic surgeries - septal resections, myomectomies, polypectomies, synechiolysis
Vaginal and abdominal surgeries
Conditions Treated
Conditions Treated
Endometriosis
PCOD
Menstrual disorders
Gynaecological cancer
Pregnancy complications
Pelvic floor disorders
Uterine fibroids
Ovarian cysts
Education & Training
Education & Training
MBBS from Lady Hardinge Medical College, New Delhi
MD in Obstetrics & Gynecology from Lady Hardinge Medical College, New Delhi
FMAS- Fellow Minimal Access Surgery
FICMCH- Fellow Indian College of Maternal and Child Health
Certificate course in Endoscopy - Ethicon Endo-Surgery Institute and World Association of Laparoscopic Surgeons
Certificate course in Endoscopy - Indian Association of Gynecologic Endoscopists
Certificate course in Ultrasound - FOGSI certified Institute of Ultrasound Training, New Delhi affiliated to Jefferson University Hospital, Philadelphia USA
Fetal Medicine Foundation UK - Certificate of Competence in Ultrasound (18-23 weeks)
Work experience
Work experience
An alumnus of the prestigious Lady Hardinge Medical College, New Delhi, Dr Kumar is an ex-army officer with over 32 years of clinical experience. Prior to joining the CK Birla Hospital, she was the Chairperson & Head - Obstetrics & Gynaecology, at Artemis Health Institute, Gurgaon. In the past, she has led the departments at Paras Hospital, Gurgaon as well as various Army Hospitals during her stint with the Army Medical Corps (AMC). She has been recognized as a graded specialist in Gynaecology for her exemplary work.
Awards and Accolades
Awards and Accolades
She was awarded in 2019 by 'The Economic Times' as "Inspiring Gynaecologist of North India"
Doctor videos
Doctor videos
PCOD is a highly prevalent gynaecological issue with every 1 in 7 women affected. Learn about the symptoms, causes and management of PCOD.
Plan your birthing options in advance. Learn the differences between normal delivery and the cesearn section.
Stay cautious and informed. Watch this video to learn why is the flu vaccine even more significant during pregnancy?
Patient testimonials
Patient testimonials
"I have always consulted Dr Anjali Kumar for my health issues. When my daughter complained of immense period pain, I immediately took her to meet Dr Anjali. I had complete faith in her and from my experience I have known how wonderful she is with her patients. She is an amazing doctor whom you can trust. My daughter felt very comfortable during the appointments and very soon after the treatment started, she began to feel relieved and healthier. Best doctor". Thanks to the whole team of CK Birla Hospital.
Seema
"Dr Anjali Kumar is a very smart and polite gynaecologist. She is very intelligent and takes a very keen interest in the health of her patients. What I like most about her is that she is always approachable and you can ask her anything. She helps her patients understand everything so that they can lead a better life even after the treatment. Totally recommended." Thanks to the whole team of CK Birla Hospital.
Priyanka
"Dr Anjali Kumar is the most amazing doctor for women's health. I love her approach and her compassionate nature. I visited her with problems with my menstrual cycle. She examined my problem thoroughly and later we discovered that I was suffering from endometriosis. She calmed me down and explained me my treatment options. She was with me at every point throughout the treatment. She is always available and makes sure that none of her patients are disturbed or uneasy. I am totally healthy now and visit her at the CK Birla Hospital for routine checkup. I recommend her to everyone who has similar problems as mine. Very good experience." Thanks to the whole team of CK Birla Hospital.
Rekha