Things you need to know
Things you need to know
- PCOD is a disease, and PCOS is a hormonal disorder, and both have similar effects on a female body
- There is no cure for PCOD/PCOS, but there are some healthy lifestyle changes that can suppress its effects
- Women with PCOS are more likely to have regular menstrual periods as they get older, thereby delaying their menopause
PCOD (Polycystic Ovarian Disease) is an ovulatory disorder in which a woman's ovaries fail to release eggs regularly as it develops multiple follicles, which develop into cysts in the ovaries over time. Women with PCOD and PCOS may emit more male hormones (androgens), resulting in infertility, irregular menstruation periods, hair loss, and abnormal weight gain. But patients can manage PCOD/PCOS with a few dietary and lifestyle changes.
Cause of PCOD/PCOS
Cause of PCOD/PCOS
Though the exact cause of PCOD still remains unknown, here are some possible causes.
Excess insulin production
An increase in insulin levels leads to an increase in androgen production (a male hormone) in women.
Family history 
There is a possibility of getting affected with PCOD if there is a history of PCOS/PCOD in your family. 
 Excess androgen production
Abnormal and excessive production of androgen by the ovaries can increase hair growth and acne on the face and body.
 Low-grade inflammation
Women with PCOS or PCOD have been found to have low-grade inflammation which induces polycystic ovaries to create androgens, which can cause heart and blood vessel problems.
Symptoms of PCOD/PCOS
Symptoms of PCOD/PCOS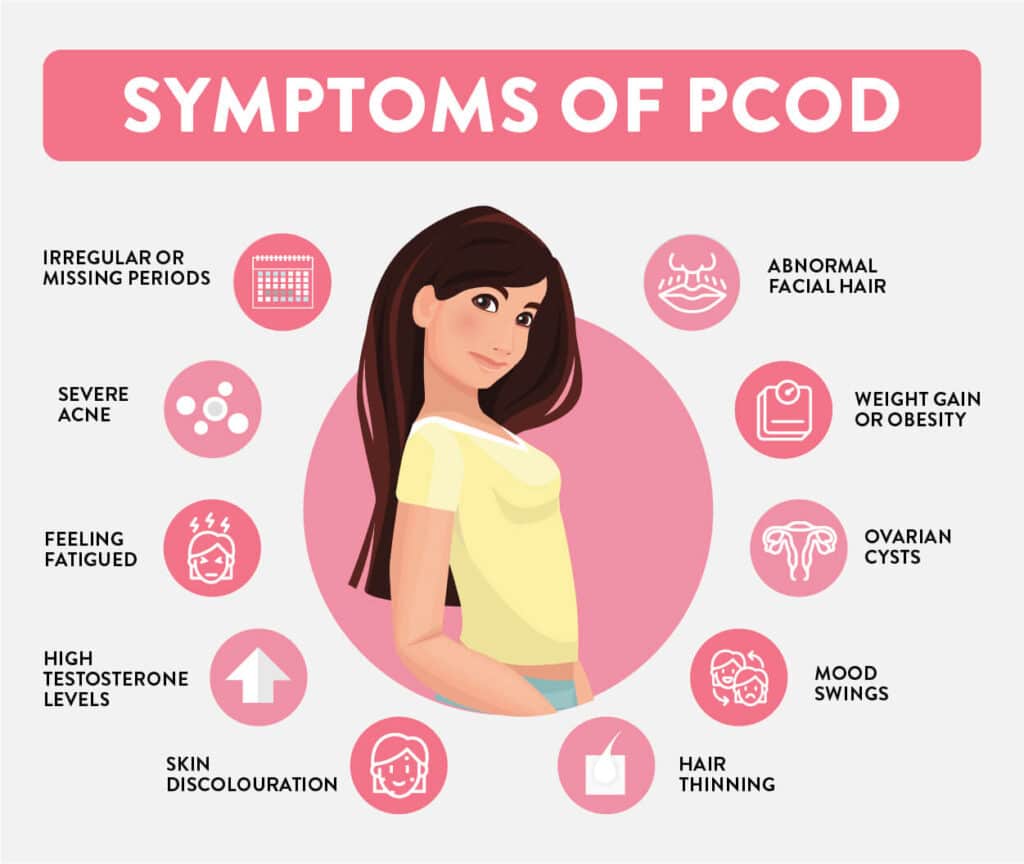 Delayed or irregular periods

No sign of periods for months

More than usual facial hair growth 

Severe acne 

Excessive weight gain or obesity 

Feeling fatigued

Ovarian cysts

Increase in testosterone levels

Fluctuating mood- feeling stressed and depressed

Discolouration of skin

Hair thinning and loss of scalp hair
Diagnosis of PCOD/PCOS
Diagnosis of PCOD/PCOS
As there isn't any definitive process to diagnose PCOD/PCOS, there are just a few possible ways to diagnose it. 
Keeping a note on your period cycles

Visit the clinic for a pelvic exam to look for any abnormal growth or masses

Blood tests can be done to check the hormone levels 

Doctor checks for any appearance of ovarian cysts 

Examine the women for any signs of depression and anxiety
Treatment of PCOD
Treatment of PCOD
There isn't any cure for PCOD/ PCOS. Therefore, PCOD problem treatment focuses on managing and changing the way of living.
Healthy eating 

Losing weight

Birth control pills (only as per doctor's recommendation)

Limit carbs consumption

Exercise regularly 

Strategise your calorie intake

Keep your sugar levels in control
PCOD Diet & lifestyle
PCOD Diet & lifestyle
Food rich in omega 3 fatty acids like- salmon, tuna, sardines etc.

Eat green leafy vegetables like- spinach, kale, broccoli and cauliflower

Fruits like- blueberries, blackberries, avocado and coconuts

Dry fruits like- almonds, walnuts, pistas etc.
Though PCOD and PCOS are both results of hormonal imbalance, PCOS is considered to be more severe.
A healthy lifestyle can help to reduce the effects of PCOD.
Irregular or missed periods are a sign of PCOD which can easily be detected at home.