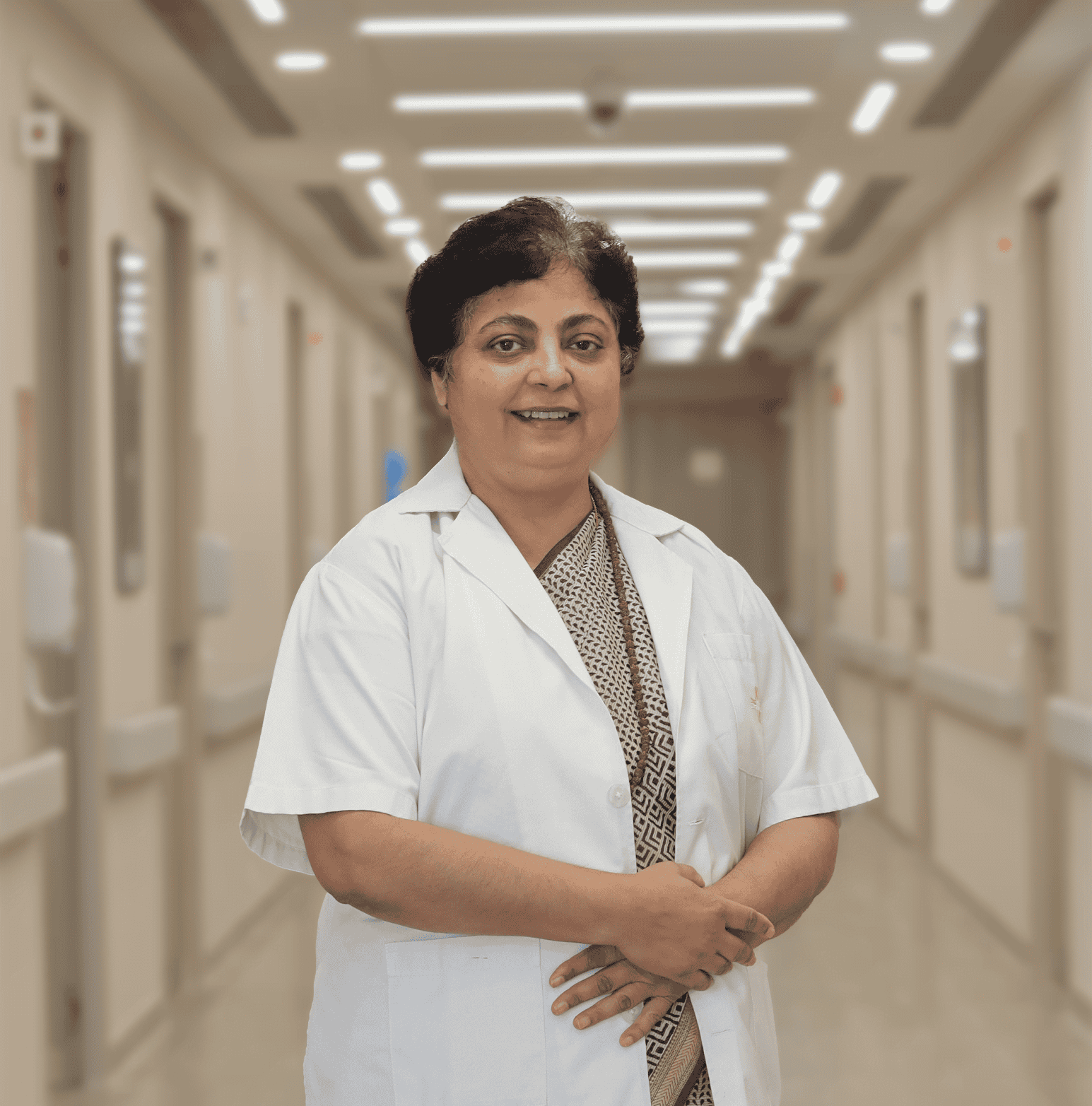 Dr. Manavita Mahajan
MBBS, MD - Obstetrics & Gynaecology, MRCOG (UK)
34+ years of work experience
Dr Manavita Mahajan has been practising as an Obstetrician & Gynaecologist for the past 30 years, with a vast experience in multiple cases, making her a valuable asset to the medical fraternity. Known for her professional competence and high ethical standards, she did her post-graduation in Obstetrics & Gynaecology from PGIMER, Chandigarh in 1993.
Subsequently, she moved to the UK as a member of the Royal College of Obstetricians & Gynaecologists UK (MRCOG) in 1998 and was honoured with the Fellowship of the Royal College of Obstetricians and Gynaecologists (FRCOG, UK) in 2011 for her excellent work in Obstetrics and Gynaecology. Now she is back in India at the CK Birla Hospital, Gurgaon as a Consultant OBGYN.
Areas of interest
Areas of interest
Assessment and management of high-risk pregnancies.
Laparoscopic surgeries for ectopic pregnancy.
Ovarian cysts & tumours,
Fibroid uterus & endometriosis.
Laparoscopic hysterectomy.
Hysteroscopy surgeries for evaluation and treatment of uterine polyps.
Recurrent abortions & miscarriage.
Postmenopausal bleeding.
PV menstrual disorders.
Correction of developmental disorders of the uterus(uterine septa).
Laparoscopic & vaginal (scarless) hysterectomy.
Evaluation and management of a couple with infertility.
Screening for gynaecological cancers.
Management of abnormal pap smears/colposcopy.
Vaginal/laparoscopic procedures for prolapse uterus & urinary incontinence.
Education and training
Education and training
MBBS University of Delhi, India
MD PGIMER, Chandigarh, India
MRCOG, London (UK)
FRCOG, London (UK)
Diploma Gynae Endoscopy, Louisville (USA)
Work Experience
Work Experience
Dr Mahajan has been associated with some of the best names in healthcare in India and the UK in an illustrious career spanning 3 decades. Her work experience and professional training have been extensive both in India and in NHS Hospitals in the UK. In India, she has been associated as a Sr Consultant Doctor in Obstetrics & Gynaecology and Minimal Access Surgery at the CK Birla Hospital, Gurgaon alongside Daffodils Hospital by Artemis & FMRI Gurugram and various other healthcare providers of national and international repute.