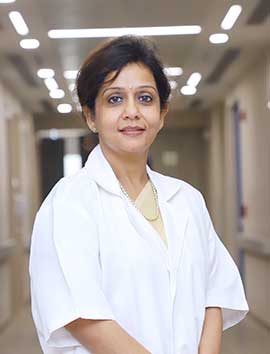 Dr Deepika Aggarwal
FRCOG (London), MRCOG (London), CCT - OBGYN (London), DGO, MBBS, RCOG (London) Accredited Laparoscopist, BSCCP (UK) Certified Colposcopist
Dr Deepika Aggarwal is Senior Gynecologist & Obstetrician, presently working with CK Birla Hospital, Sector 51, Gurgaon. She is the most trusted & esteemed gynaecologist in Gurgaon with 25 years of clinical experience including 13 years of enriched experience as an Obstetrician and Gynecologist in various London Hospitals (U.K.) including Surrey and Sussex Healthcare NHS Trust, Whittington Hospital NHS Trust, Queen Elizabeth Hospital NHS Trust, Frimley Park Hospital NHS Foundation Trust, St Helier Hospital NHS Trust. She is also accredited for open and advanced laparoscopic gynaecology surgery, RCOG (London), accredited advanced delivery suite practitioner, RCOG, London.
She is also 'British Society for Colposcopy & Cervical Pathology' (London) accredited Colposcopist. She is a member of the Royal College of Obstetricians & Gynecologists, London (RCOG), Federation of Obstetric and Gynecological Societies of India (FOGSI), Gurgaon Obstetrics & Gynecologic Society (GOGS).
Areas of interest
Areas of interest
Advanced Laparoscopy (Laparoscopic hysterectomies and myomectomies and Hysteroscopy expert)
Gynecology Oncology specialist
Cervical cancer screening (Pap Smear) and Colposcopy expert
Water birthing specialist
Recurrent pregnancy losses, high-risk pregnancies, normal deliveries, vaginal birth after previous cesarean section
Conditions treated
Conditions treated
Uterine fibroids
Ovarian cysts
Endometriosis
Menstrual disorders
PCOD
Labour & birthing complications
Gynaecological cancer
Menopausal problems
Pregnancy complications
Pelvic floor disorders
Education and training
Education and training
FRCOG (UK) - Royal College of Obstetricians and Gynecologists, London, 2018
MRCOG(UK)- Royal College of Obstetrician and Gynaecologist, London- 2005
CCT (Obstetrics & Gynecology) (UK) - RCOG, London, 2011
RCOG(London) advanced labour ward accreditation - RCOG London, 2009
RCOG(London) laparoscopy surgery accreditation - RCOG, London, 2011
British Society for Colposcopy and Cervical Pathology - RCOG, London, 2009
D.G.O Maulana Azad Medical College, LNJP Hospital, New Delhi, 2001
MBBS, UCMS, GTB Hospital, Delhi, 1992- 1998
Doctor Videos
Doctor Videos
Can papaya cause miscarriage in early pregnancy
Watch Dr Deepika (Lead consultant - Obstetrics & Gynaecology at the CK Birla Hospital) as she debunks the most common myth "Can papaya cause miscarriage in early pregnancy?".
Hypertension and Preeclampsia | Silent dangers to pregnancy
Hypertension and preeclampsia are both conditions that can have severe consequences on pregnancies.
Is water birthing the best way to reduce labour pains?
Water birthing in India has risen in popularity exponentially over the past few years, with more number of celebrities advocating this birthing technique.
Patient testimonials
Patient testimonials
I consulted Dr Deepika when I found out that I was suffering from uterine fibroids. My local general physician had recommended her to me and told me that she is a specialist. Dr Deepika is truly a wonderful specialist. One of the best obstetrics and gynecology doctors. She is compassionate and smart and she has a very positive approach. She advised me to undergo laparoscopic surgery to get the fibroids removed. I was a bit nervous but she had a very lengthy detailed discussion with me where she explained everything. I have to say I felt very comfortable after knowing the process. The surgery was successful and I recovered very quickly. I have not faced any complication also. I do consult Dr Deepika for regular followups and general questions about my health. My faith in her has expanded after seeing the results of my treatment. I recommend her to everyone else, especially if you have a fibroids problem, you should definitely consult her Thanks to the whole team of CK Birla Hospital.
Sneha
The best gynecologist in Gurgaon. Excellent experience with Dr Deepika Aggarwal. She is an outstanding intelligent doctor with a passion for healing her patients. She is very proactive and takes a personal interest in the health of her patients. I adore her approach to working and I appreciate how she is always willing to help everyone Thanks to the whole team of CK Birla Hospital.
Shweta