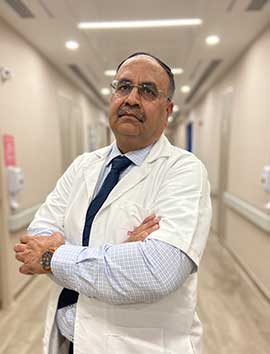 Dr Abhay Ahluwalia
MBBS, MD (General Medicine), DNB (General Medicine), DM (Endocrinology)
Dr Abhay Ahluwalia is a nationally acclaimed endocrinologist in Gurgaon. He has obtained his medical qualifications and training from the most reputed institutions in the country. He has extensive experience of more than 33 years in the management and treatment of various endocrine diseases. He is a proud recipient of the GOC Vice Chief Medal for Distinguished Service. He has a vast experience of more than 33 years including his time with the Indian Navy and hospitals like Columbia Asia and W Pratiksha. He has been a Professor of Medicine and Endocrinology at Armed Forces Medical College and Army hospital R&R for over 23 years.
Areas of interest
Areas of interest
Type 1 and Type 2 Diabetes
Growth Disorders
Insulin PUMP Therapy
Paediatric Endocrinology
PCOD & Reproductive Endocrinology
Thyroid Disorder Treatment
Conditions treated
Conditions treated
Diabetes
Growth disorders
Chronic kidney disease
Obesity
Thyroid
Cystic fibrosis
High cholesterol
PCOD
Education & Training
Education & Training
MBBS and MD in Internal Medicine from Armed Forces Medical College, Pune
DNB in General Medicine from National Board of Examination
DM in Endocrinology from All India Institute of Medical Sciences (AIIMS), Delhi
Patient testimonials
Patient testimonials
I met Dr Abhay Ahluwalia some months ago when I first found out I had diabetes. I had gone for a general checkup when I found out about the problem. I wanted to receive the best treatment and keep an active watch on my health. My neighbour recommended that Dr Ahluwalia is a top doctor for this. I booked an appointment and liked him in the first consultation itself. I had an overall brilliant experience. He is a very polite and professional man. He gets to the root of the problem and gives lifestyle recommendations to bring the maximum benefit to the treatment. Totally recommend him. Thanks to the whole team of CK Birla Hospital.
Divij
"I have been taking treatment from Dr Abhay Ahluwalia for nearly 2 years now. I had a high blood pressure problem. First I had visited a few other doctors but none of them were helpful. Since my condition was not getting better, I decided to meet another doctor. My friend told me that Dr Abhay Ahluwalia is the best endocrinologist in Gurgaon and he may be able to help me. I immediately booked and appointment with Dr Abhay. Truly he is the best. Ever since I started my treatment, my conditon drastically improved and I have been so better. Amazing doctor." Thanks to the whole team of CK Birla Hospital.
Nivit
"Good experience. Brilliant doctor. I would totally recommend him to others." Thanks to the whole team of CK Birla Hospital.
Sheelu