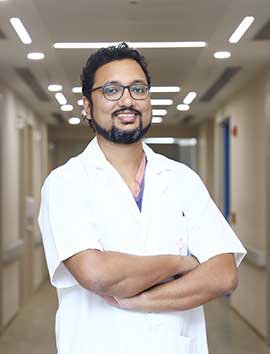 Dr Debashish Chanda
MBBS, MS (Orthopaedics), FJR Navigation & Robotics (Germany), FJRS Computer Navigation (Mumbai)
Dr Debashish Chanda is an accomplished orthopaedic surgeon. He has a rich clinical experience of over 14 years in which he has performed more than 4000 joint replacements and over 2000 computer navigation assisted replacement surgeries. Dr Debashish is one of the very few surgeons trained in Germany on robotic-assisted knee & hip surgeries. He has worked with some of the best hospitals across India and Europe including Lilavati Hospital (Mumbai), Breach Candy hospital (Mumbai), Maulana Azad Medical College (Delhi), LNJP (Delhi), Columbia Asia hospital (Gurgaon)  ASKLEPIOS hospital (Germany). 
Areas of interest
Areas of interest
Joint preservation surgeries
Joint replacement (knee, hip, shoulder, elbow, wrist)
Revision /Complex joint replacements
Arthroscopic surgery for ACL/PCL tear
Meniscus repairs and transplants
Cartilage microsurgeries
Chondrocyte transfer and chondroplasty
High tibial osteotomies
Realignment of limb
Conditions treated
Conditions treated
Joint disorders
Knee pain
Back pain
Meniscus tear
Ankle ligament injury
Club foot
Achilles tendon
Tarsal Tunnel Syndrome
Metabolic bone disorders
Developmental Dysplasia of the Hip (DDH)
Musculoskeletal disorders
Arthritis
Osteoporosis
Sports injuries
Shoulder dislocation
Flat foot
Hallux Valgus deformity (Bunion)
Frozen shoulder
Cervical SpondylitisBone and joint deformities
Cerebral palsy
Multiple joint pain
Education & Training
Education & Training
Fellowship in Computer Navigation Surgeries from Lilavati Hospital, Mumbai
MBBS and MS from Guwahati Medical College (Assam)
Advanced Navigation System Program with BrainLab in Germany and Navio Robotic Arm program by Smith and Nephew
Patient testimonials
Patient testimonials
He explains everything in detail and is never in hurry. I am suffering from some issue in my knee and he was the one who was actually able to properly diagnose my problem. If you are struggling with a diagnosis of your problem you should definitely visit him. Also, he will explain everything in detail. He is most probably the best bone done near me Thanks to the whole team of CK Birla Hospital.
Aditya Narula
I don't normally write public reviews but I found the reviews written by other people very helpful when I was looking for an orthopaedic surgeon for my Mum. Based entirely on reviews, I suggested my Mum consult Dr Debashish for her knee pain which was bothering her for more than 2 years. She went to see him with my brother and was very impressed with him. He of course suggested an X-ray and some tests, and according to her, he was very patient in explaining to her in layman terms about what's ailing her based on the results. She ultimately ended up having her knee replacement surgery, her very first surgery of any kind. She was very nervous but Dr Debashish made every effort to make her feel comfortable at every step, pre-surgery and post. She just had her one-year post-surgical check-up with him and is very satisfied with the level of care she got from Dr Debashish. He is the best orthopedic surgeon in Gurgaon. Dr Debashish, I would like to thank you for taking excellent care of my Mum, she acknowledges your superb bedside manners, your attitude towards patiently explaining everything about her diagnosis, her treatment, and her medication to her. She would definitely, in a blink of an eye, recommend you to anybody with orthopaedic needs/demands/care. I hope to meet you some time to thank you in person, next time I'm in town Thanks to the whole team of CK Birla Hospital.
Rama K
Ethical Doctor. The best orthopedist in Gurgaon. Genuine advice and an Honest approach. Today everyone is after money and no one has time to listen to patients. In my uncle's case, I found him very helpful. He listens to us, examined well, prescribed only necessary medical test and medicines. We as a patient are ready to spend any amount on our health problems, but we are seeking time of the doctor to listen and right treatment. You can trust Dr Debashish Chanda at this institute. Thanks to the whole team of CK Birla Hospital.
Pawan Joon