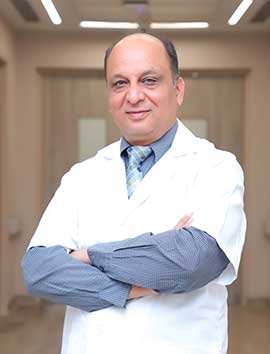 Dr Punit Dilawari
MBBS, D. Ortho, DNB (Orthopaedics & Orthopaedics Surgery), M.Ch (Orthopaedics) (UK), FICS (USA)
Dr Punit Dilawari is a leading orthopaedist with more than 31 years of experience including 7 years of extensive experience with different institutes in the United Kingdom.
He is the first Orthopaedic surgeon to have performed resurfacing shoulder replacement in North India and is the first one to perform revision Elbow Replacement. Dr Punit has many national and international publications to his credit.
He brings with him a rich experience of over 31 years in the field of orthopaedics and has been associated with hospitals of repute both in India and the United Kingdom including Fortis Hospital (Noida, Vasant Kunj), Fortis CDOC Hospital, Artemis Hospital (Gurgaon), Metro Hospital (Noida), NMC Hospital (Noida).
Areas of Interest
Areas of Interest
Joint preservation procedures
Knee and shoulder arthroscopies
Salvaging failed or infected joint replacements
Sports injuries
Complex joint replacement of hips and knees
Conditions Treated
Conditions Treated
Knee pain
Meniscus tear
Ankle ligament injury
Achilles tendon
Tarsal Tunnel Syndrome
Metabolic bone disorders
Musculoskeletal disorders
Cerebral palsy
Club foot
Hallux Valgus deformity (Bunion)
Osteoporosis
Shoulder dislocation
Flat foot
Frozen shoulder
Cervical Spondylitis
Developmental Dysplasia of the Hip (DDH)
Multiple joint pain
Bone and joint deformities
Arthritis
Education & Training
Education & Training
MBBS from University of Kashmir, Jammu & Kashmir
Diploma in Orthopaedics from Govt. Medical College
DNB in Orthopaedics/Orthopaedic Surgery from National Board of Examinations Ministry of Health, Government of India
M.Ch in Orthopaedics from University of Dundee, United Kingdom
FICS from USA
Patient testimonials
Patient testimonials
Dr Punit Dilawari is the best orthopedic doctor in Gurgaon. He makes sure that his patients are aware of their treatment options and make the best decision for themselves. For him, his patients' safety and comfort is above all. He is a brilliant doctor who has great knowledge and several years of experience to help the patients in all forms and manners. Thanks to the whole team of CK Birla Hospital.
Ashu
Great doctor. Behaviour, treatment, care, everything was nice. I am fully satisfied and would recommend him to everyone else with orthopaedic problems. Thanks to the whole team of CK Birla Hospital.
Lucky
My experience with Dr Punit Dilawari was amazing. My consultation was carried out in a very smooth manner and I was given appropriate time. Dr was very helpful in making me understand the diagnosis and further giving me the right type of treatment. I feel very happy having consulted him. Thanks to the Dr for all his help and support. Thanks to the whole team of CK Birla Hospital.
Preeti